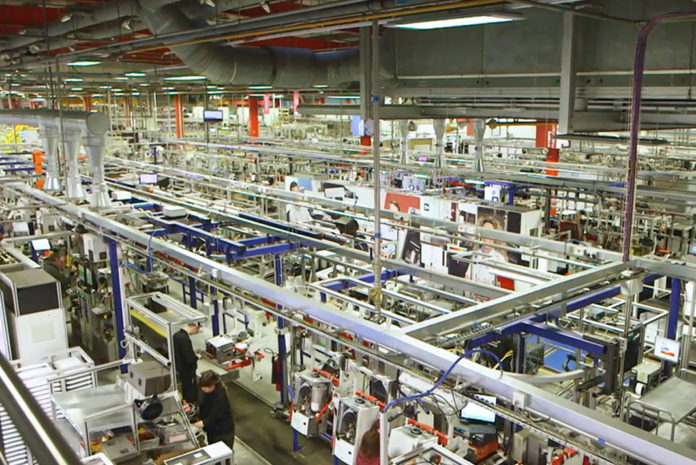 Installers can watch every step along the production line of a Worcester Bosch domestic boiler at its Cotswold Way factory in Worcestershire.
The company's transparency is not a requirement of manufacturing in this country and certainly isn't the norm.
However, by showcasing its engineering techniques and workplace practices it leaves the door open to customers.
A crucial source of local employment and apprenticeships, Worcester Bosch Group is a trusted name in the area and wants to keep it that way across the UK too. Accredited installers will be familiar with its shiny headquarters, with barista vending machines at every turn and a staff canteen handing out more gammon, egg and chips than a Sunday morning at Wetherspoons.
Training is a key part of this, at the group's on-site academy. During HPM's visit a joint seminar is being hosted with the Association of Plumbing and Heating Contractors (APHC) to discuss servicing, warranties, preventative maintenance and future gas networks. On arrival, an enormous multicoloured giraffe greets visitors at reception – commissioned as part of a community project but cleverly working in Worcester Bosch colours.
After all, let us not forget that opening the doors to guests also serves as a branding opportunity for the host.
Beside reception the company has replaced what was a museum with what is best described as a Madame Tussauds of its surviving products. Here, the service team can step out of the office and handle the items they are discussing over the phone with an installer.
The manufacturing facility is a short walk down the corridor – designed to stay within touching distance of administrative functions in the surrounding offices. A new first floor walkway has been erected to build a bridge between the manufacturing office and factory floor.
This office boasts a 3-D printer for the overnight production of items needed to keep the factory's wheels in motion. Breakout areas and meeting rooms there are designed to merge corporate matters and manual labour under the same roof.
BENDING AND PRESSING
Before the Worcester Bosch boiler can even begin assembly, its pipes must be bent into exact position and cut to the right size after being delivered in coils. This happens at speed using the automated 4-Runner, which thrashes out the finished product 20% faster than nonhydraulic machines can manage.
Demand for new Worcester Bosch boilers, monitored by a logistics team, controls the flow of these components through the factory. A new 5G speed network is being rolled out to make these processes even more pre-emptive.
"We are always trying to use technology to our best advantage," says David Hunt, head of manufacturing operations and engineering at Worcester Bosch.
A new racking system introduced at the Worcester plant last year, meanwhile, has saved 30% on floor space.
The next material being prepared ahead of the assembly process is the boiler's steel cover, which arrives in bulk as blanks ready for pressing. It is a manual process as the blanks are loaded and put onto the press tool.
MANUAL ASSEMBLY
While, as expected, the manufacturing process is increasingly automated, some tasks are still better done by hand. This extends across the press department, where order cards are processed across the desk before the factory's 'milk runners' take parts from the picking face.
A total of 260 associates are employed at the Worcester plant, working in a two-shift pattern of either earlies or late hours, up until 1am. Mirroring the wider heating sector, operations are seasonal with annualised hours.
This means in a given week, the team might work 30 hours at a quiet period of the year or 48 hours at peak heating season.
The radio plays out day and night, although pleasing the musical tastes of hundreds of colleagues at the same time is something of a conundrum. "It's a challenge. We try to move it around, so everyone gets what they want at different times."
An 'Associate resting area' with padded seating and provision of fruit twice a week is also designed to keep up morale, while a large 'Organogram' proudly displays each member of staff across the entire headquarter. The scale is impressive.
On average, the Worcester facility manufactures 1,500 boilers per day plus 20 heat distribution units.
Spare parts are also made to order for products already installed in the home. "A spare should be of the same standard as when you bought it on day one," David says.
As the parts continue their journey towards the assembly line, they visit the hydro line for a leak test of pipes, brackets and hydraulics.
Meanwhile, the required heat exchanger is welded together, with the option to use one of two spinning robotic aluminium welding tools unique to Worcester.
"The process produces a really stable weld," David says. "It is at the very top of the industry."
When each component is ready, the required sequence description is sent through a chute to the final assembly line, to build up the identity of each appliance including its service requirements and serial number.
"Again, these are really quite manual processes. So not only is the equipment crucial but so are our associates. They are building a product that is market leading, and we want installers to see the quality gates we go through to get the product," he adds.
Each boiler is tested with air across all its functions before being fully assembled and boxed up. This includes a gas valve leak test, air pressure switch, electrical test and combustion chamber seal test.
Even beyond the manufacturing process, test cycles on each Worcester Bosch model continue for ten years.
At the very extreme end, a boiler was once sent to Chile to experience a seasonal cold snap. However, the most important of these quality gates are the factory workers themselves. A tour of the Worcester facility demonstrates their engagement with the process and just how streamlined it needs to be.