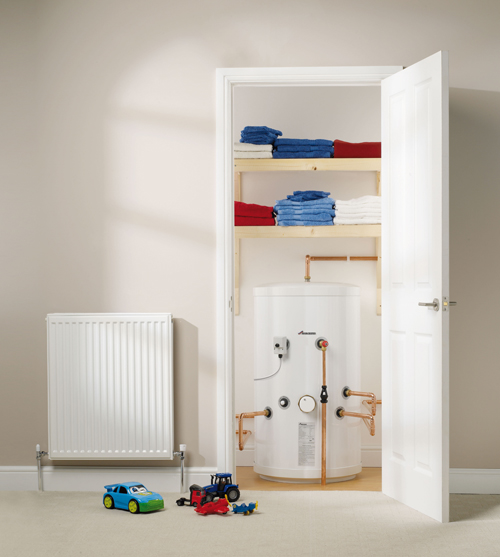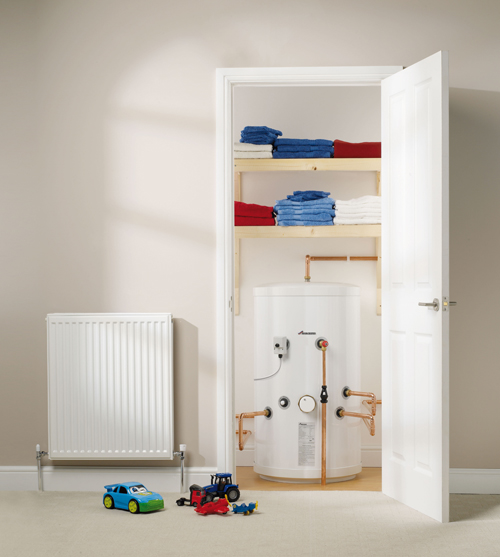 Combi boilers may rule the roost when it comes to the majority of heating and hot water installations in the UK, but there are still certain situations when only a hot water storage cylinder will do.
Here are Worcester Bosch's top reasons for considering the latest high-efficiency cylinders when specifying a heating system.
1. Dealing with increased demand
Hot water storage cylinders are an appropriate choice for when demand for hot water increases. This is common in larger properties, and also occurs when the extension of a property means its needs are different from when the system was first specified.
Many property extensions include an additional bathroom, which places extra work on the heating and hot water functionality of the boiler. In this scenario, fitting an unvented cylinder to the existing combi could be a simple and cost-effective way of meeting the increased demand for hot water.
2. Combatting low pressure
For best performance, most combis require a water pressure of at least one bar, as well as a flow rate of more than 12-15 litres per minute. However, there are still many areas in the UK where the performance of the water mains is slower than that of the rest of the country.
A simple solution is the installation of a regular boiler in the property, with an open vented cylinder and a cold-water storage cistern in the loft or roof space. This is easy to install and will ensure a more consistent flow of water.
3. Going green
Hot water storage cylinders are a great option for anyone wanting to use renewable technologies to heat their homes. Although there are ways of connecting a combi to a solar thermal system, the solar panels tend to connect to a twin-coil cylinder. The lower coil is connected to the solar thermal panels, and the upper coil is connected to a secondary appliance, in case there isn't enough solar energy available.
Once the cylinder has been connected, energy collected through the solar panels can give homeowners access to a reliable, environmentally-friendly source of hot water – with the added bonus of lower energy bills.
4. High performance, low cost
Modern cylinder technology has great efficiency benefits and with few moving parts, meaning it is a reliable and versatile installation option.
The latest models also offer extremely high heat retention levels thanks to their insulation, as well as reliable hot water performance and rapid heat-up times.