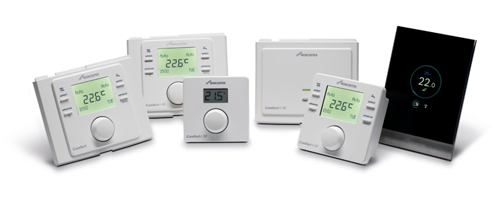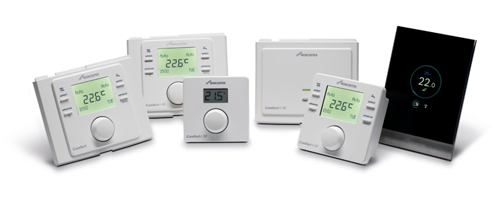 "When it comes to heating controls, the most important thing to consider is whether or not the homeowner can actually use them," says Martyn Bridges, director of technical communication and product management at Worcester Bosch. "In that respect, installers have an important role to play – not so much in selling different design options, but in advising customers on the best, most cost-effective solution for their homes."
Simple controls may offer the minimum level of functionality, but that's better than nothing.
Who? Perfect for people who struggle with technology or who are simply not interested, simple controls are the first step towards managing heating and hot water, without either just leaving the boiler on continually, or turning the boiler on / off manually.
What? The MT10RF mechanical timer can control the boiler through simple start/stop commands, which are transmitted by wireless communication between the transmitter and the receiver.
Digital controls allow the user to set a seven-day heating schedule with simple on/off commands.
Who? "Digital controls suit young professionals or families, because their routines can be fairly predictable," Martyn says. "They can also be a viable option for the elderly, or people with mobility problems, because the boiler will come on reliably at at the programmed times, without requiring human intervention."
What? The Greenstar Comfort 1 comes with three adjustable heating and hot water time periods, and is pre-paired with a separate, load compensating room thermostat.
Intelligent controls provide enhanced efficiency by using internal and external factors to influence the functionality of the boiler.
Who? Anybody who wants the energy efficient benefits of smart technology, without the gadgets and widgets, would benefit from an intelligent control. "Load and weather compensators essentially do the hard work for them," Martyn says.
What? The Greenstar Sense I intelligent room thermostat is the perfect replacement for less efficient, wired room thermostats.
Internet-connected controls: heating and hot water controls meet this year's "hot topic" – the Internet of Things. "Smart, internet-connected controls provide unprecedented insight into a home's energy usage," Martyn says. "Users can also benefit from 'zoned' heating, external access via smartphones and occupant detection."
Who? Anyone can benefit from an internet-connected control, but only if they know how to use them. "Customers who are tech-savvy and attuned to the latest developments in heating and hot water control stand to benefit the most," Martyn says.
What? The Bosch EasyControl is the latest smart control to hit the market. As well as a modern, sleek design, it provides access to a boiler via a smartphone app. Pair with smart thermostatic radiator valves (eTRVs) to control and change the heating in individual rooms.
Caption: Martyn Bridges is director of technical communication and product management at Worcester Bosch