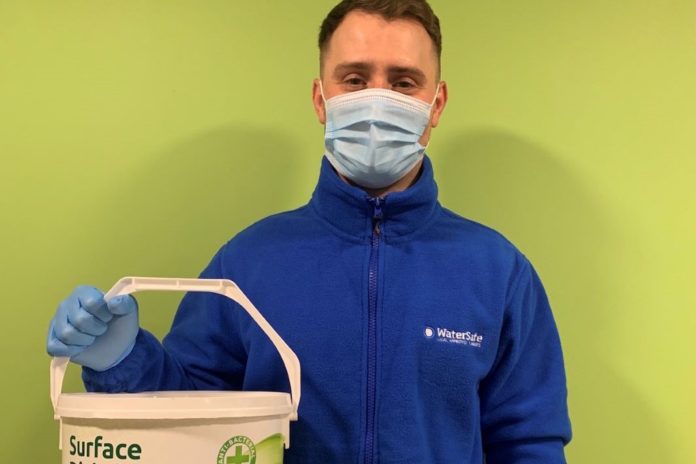 What are the measures customers most want to see from their plumber, or other tradespeople, to help them feel safe when having work done during the pandemic?
WaterSafe, the UK register of approved plumbers, has revealed the measures tradespeople can take in making homeowners feel safer this winter, in the midst of the ongoing public health crisis.
The top priorities for UK homeowners are:
Remove all waste and belongings at the end of the job (64%)
Maintain social distancing with their customers (61%)
Wear a mask/face covering (60%)
Use hand sanitiser and clean surfaces after working on them (55%).
Other precautions they valued were washing hands (54%), wearing gloves (46%), maintaining social distancing with colleagues (41%) and discussing safety precautions with customers prior to the job (38%).
About a third would also like to swerve kettle duties and sharing mugs and would prefer plumbers to bring their own drinks, WaterSafe stressed.
However, when it comes to these safety precautions, the consumer survey revealed not all plumbers were minding the gap, with only about a third maintaining social distancing, washing their hands and cleaning surfaces after working on them.
Homeowners were revealed to be more cautious, with 55% of customers saying they maintained social distancing from their plumber, 37% opening windows for extra ventilation and 36% isolating in another room while work was completed.
Age unsurprisingly played a part when it came to homeowners' social distancing habits, with 86% of over-65-year-olds maintaining social distancing from their plumber, compared with 39% of those under 25.
Plumbers are also keen for customers to play their part. A survey of plumbers earlier in the year revealed 10% of customers were not observing any government safety guidelines when they worked in homes.
Julie Spinks, director of WaterSafe, said: "Plumbers are critical workers and, not surprisingly, our survey results show demand for plumbers during the pandemic remains high, with one in five UK homeowners having used the services of a plumber since the start of the pandemic. Of these only about a fifth preferred to be offered advice over the phone or by video call.
"So it's really important plumbers, and other trades, working in customers' homes follow the latest government guidance to reduce Covid-19 risks for everyone. If you have any concerns speak with your plumber about their company Covid-19 safeguards before they enter your home.
"We hope the results provided by our survey will give all tradespeople a helpful insight into what their customers value most when it comes to feeling safe.
"When choosing a plumber we recommend using a WaterSafe approved plumber, as they are trained in the water regulations that help keep drinking water healthy and are promoted by your local water company – one less thing to worry about in these challenging times."
The most popular services requiring a call-out since the beginning of the pandemic were fixing a leak (29%) and fixing a faulty boiler (22%), with new plumbing work, refurbishment and fixing a faulty toilet joint third with 21% of the vote.