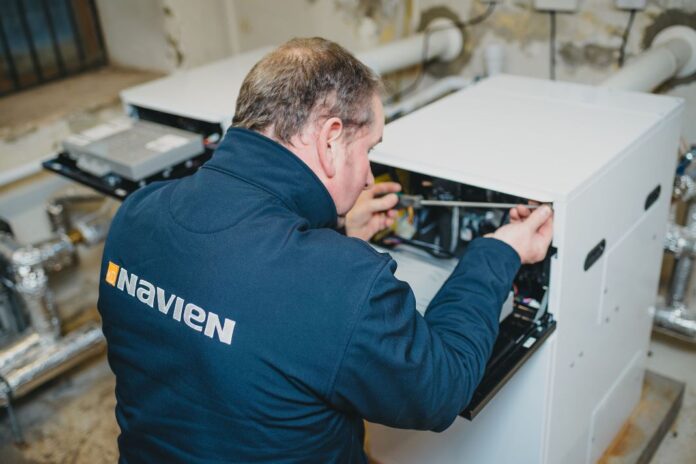 Navien has emphasised the importance of servicing its LCB700 Blue Flame oil boilers every year, not only to ensure reliability but also prevent warranties from becoming invalid. Regular servicing will keep boilers operating efficiently, thereby reducing end users' fuel bills, it stressed.
Navien – and OFTEC – recommend liquid fuel-fired boilers are serviced at least once a year, otherwise the efficiency can be affected. For example, servicing prevents soot forming on the heat exchanger, which can then restrict the amount of heat being transferred into the system water. Flexible oil hoses and nozzles also need to be replaced, otherwise they can cause the heat exchanger to 'soot up' due to too much fuel passing through the burner.
When servicing a Navien LCB700 Blue Flame oil boiler, engineers should look for any signs of water leaks inside the case during the visual inspection.
Sean Keleher, national technical manager at Navien, said: "It is important to check there are no small signs of distress or possible water, oil or flue condensate leaks; particular attention should be given to key components such as the diverter valves, plate-to-plate heat exchanger, main heat exchanger, pump and pipework. Close inspection of these parts will help identify any potential issues at an early stage."
In addition, Navien recommends checking the condensate trap and filling it with fresh water, as well as verifying the flue and air lines are in good condition – and sealed tight. System piping and control settings should also be checked, along with the ignition and control sensor, which should be cleaned and repositioned as necessary.
Installers should also check flue termination and the flue route for its entire length, including the joints, from the boiler to the outside of the property. Any obstructions must be removed from the terminals and the flue should obviously be safely fitted.
Sean added: "Checking the flue integrity ensures the boiler is working correctly and that no exhaust gases are escaping. Wiring and controls should also be inspected, as they are integral to the overall workings of the heating system. Making sure all key components are cleaned and in top condition certainly goes a long way in maintaining safe and efficient boiler operation."