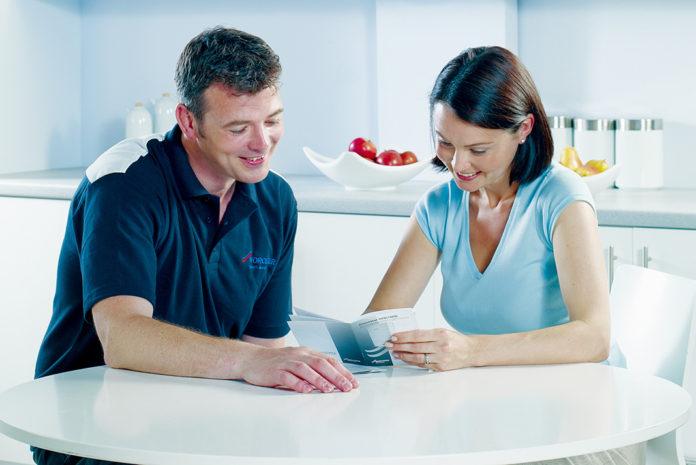 With the boiler 'switch-on' now well underway, a surge in demand for new and replacement boilers is somewhat inevitable.
Martyn Bridges, Worcester Bosch's director of technical communication and product management, provides his advice for the perfect handover process; a fundamental element of the boiler installation process which can all-too-easily be overlooked or cut-short once peak season arrives.
Safely installing a boiler is only the beginning of a heating engineer's role. Despite being a key stage in the process, the explanation of the boiler to the homeowner can be somewhat neglected.
Here are five things to consider for a thorough heating system handover:
1. Begin with the Benchmark
The Benchmark Commissioning Checklist is there to assist installers during the handover process. The checklist is also a mandatory industry requirement under the Building Regulations which verifies that the installation has been correctly commissioned, and the homeowner knows how to correctly use the system and its controls.
Installers must record the boiler's make, model, and serial number as well as their own details and their Gas Safe Register number. This information will sit alongside performance data such as the operating pressure and gas rate, as well as the CO/CO2 performance.
2. Care for the combi
For combi boilers specifically, details of any water scale reducer will need to be provided along with:
Gas Rate (m3/hr or ft3/hr)
Burner Operating Pressure (at maximum rate) (mbar) or Gas Inlet Pressure (at maximum rate) (mbar)
Cold Water Inlet Temperature (°C)
Confirmation that hot water has been checked at all outlets, and the temperature recorded (°C)
Water Flow Rate (l/min)
3. Customer checklists
It is important that installers spend time with their customers to advise them on a number of aspects of the heating system to ensure that it continues running smoothly after they leave. Explanations should include:
The need to observe the pressure gauge and, when necessary, how to top-up the system. Special attention may be paid to the filling link or key used to re-pressurise the system.
The Thermostatic Radiator Valves how they work and their different settings to accommodate varying comfort levels.
How to reset the boiler.
How they can perform their own fault-finding check aided by the user guide.
The location of the serial number should it be needed for any warranty call.
When and how to isolate the boiler safely.
What to look for in water temperature, and how incoming cold temperatures affect Domestic Hot Water outputs.
4. Customer controls
Controlling a heating system is now simpler than ever for many households, with smart controls offering tailored time and temperature control from a phone, laptop or tablet. Homeowners are more interested in their heating systems than ever before,
so installers should provide their customers with as much information as possible to ensure that domestic heating systems are used efficiently and safely.
5. Commit to customer care
Following a successful boiler installation, customers should be provided with the contact numbers for the installer/service engineer, the boiler manufacturer, and who to call in a gas emergency. In addition, installers should point out where the householder can find more information online.