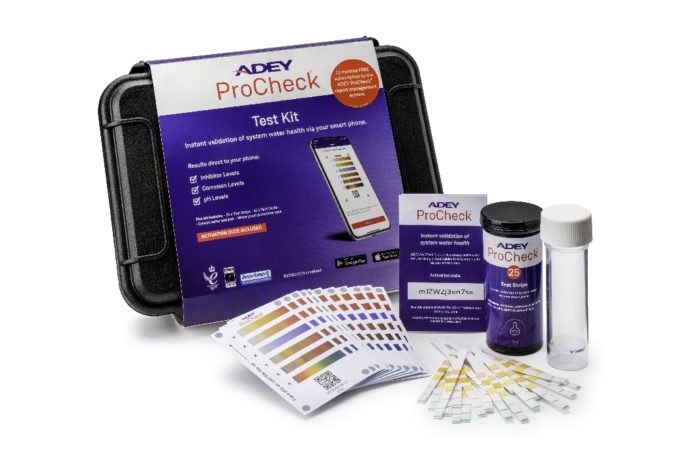 ADEY explains how changes to Part L in force from 15th June 2022 mean that water quality checking, maintenance and protection will need to be carried out at every heating system install, service and repair.
Essentially, when working on, preparing or commissioning a heating system – new or existing – the heating system water needs to be treated as per BS7593:2019.
The good news is that it's easy to show you've complied by completing the digital Benchmark certification through the new Benchmark app – and the result will be more efficient, energy saving systems heating homes across the UK.
Whether you are installing a completely new system, carrying out a service, or fitting a new boiler or low carbon heat source to an existing property, under the new Part L requirements, the following will need to be carried out:
Check inhibitor AND system cleanliness at every install, annual service and repair.
All systems should be cleaned using a full fresh-water system flush to remove sludge and other debris. Even brand-new systems may have contaminants like grease, solder, or installation debris. Chemical inhibitor should be added after the final fill with fresh water.
Fit an in-line filter to all systems after completing a clean. Existing filters should be cleaned and serviced as part of recommissioning.
Re-dose the inhibitor every five years or complete a full system water test to make sure water is clean and balanced.
PROVE IT
Using an onsite test such as ProCheck checks for all required elements such as corrosion, pH, inhibitor and turbidity. Results & recommendations are delivered instantly onsite through the dedicated ProCheck app. The results can be immediately shared with the homeowner too, to help conversations about remedial action.
Showing compliance with Part L, best practice and BS7953:2019, can be done easily and quickly by completing digital Benchmark registration using the dedicated Benchmark App. The relevant information can be simply inputted and will be required as part of the warranty process for many boiler installations.
For further visibility and customer reassurance, installers carrying out a system flush with a product such as ADEY MagnaCleanse, can also complete the accompanying MagnaCleanse certificate that can be given to homeowners as extra proof the system is in the best possible condition. ProClub members can access a digital version in the ADEY Installer Hub.
EXPLAIN IT
Water quality is something your customers probably don't think about, especially as it can't usually be seen. They may be unaware that by keeping the water inside the central heating system clean, radiators could give out up to 47% more heat – or that by taking good care of their heating system, it could extend the life of their boiler by up to seven years.
Explaining what you are doing, the effect on efficiency and the added benefit of extending the life of the boiler, will not only ensure they are aware of 'why' it is so important to the running of the system – it will also boost your professionalism as an expert too.
Neil Watson, director of strategy at ADEY, said: "The impact sludge-free and properly protected water can have on the running and longevity of a heating system has long been known by installers and it stands to reason that a clogged-up system won't run as well as it should. The changes to Part L are designed to increase home heating system efficiency throughout its life, not just at installation.
"British Standards was the first to switch to this view in 2019, and now, with Part L and the digital Benchmark certification in force from June 2022, we've got a great opportunity to help the UK's heating systems work better for longer. It will also help keep gas bills down with heating systems that run as efficiently as possible – something that is so important to so many customers looking to make savings."