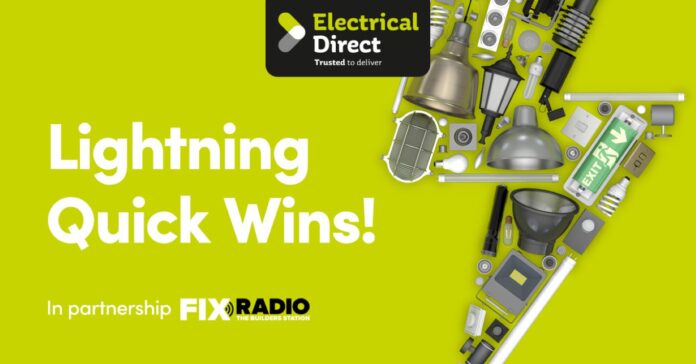 Listeners of Fix Radio are being treated to an exciting new competition from leading specialist trade supplier, ElectricalDirect this May and June. Those tuning in to the radio station's Electrical Show have the chance to win £250 to spend at ElectricalDirect in this fantastic giveaway.
As part of its 'Always Switched On' campaign, ElectricalDirect has teamed up with Fix Radio's Electrical Show, where radio host Thomas Nagy will play a clip of a famous song at lightning-fast speed. If listeners can identify the song, they have the chance to win £250 to spend at ElectricalDirect, plus a bonus prize bundle each week.
Dominick Sandford, Managing Director at ElectricalDirect said: "We are delighted to launch this exciting competition for Fix Radio listeners. In line with our current brand advertising campaign, four lucky winners will be able to 'pick and fuse' from over 12,000 products we have in stock with their £250 voucher, as well as an extra prize bundle from one of our suppliers.
"As a retailer unconstrained by store opening times, customers can order as late as 9pm and still get lightning quick delivery the next day for their jobs and projects. This competition is just part of our supercharged activity that aims to underpin our fantastic reasons to shop and 'trusted to deliver' company promise."
The competition will be live during the Electrical Show on Fix Radio, from 2pm every Thursday between 13th and 25th June. Listeners should submit their entry to the radio station's website for the chance of winning £250 to spend with ElectricalDirect plus one of four prize bundles. More information on the prizes and how to enter can be found on the Fix Radio website here www.fixradio.co.uk/win/lightning-quick-wins-with-electrical-direct.