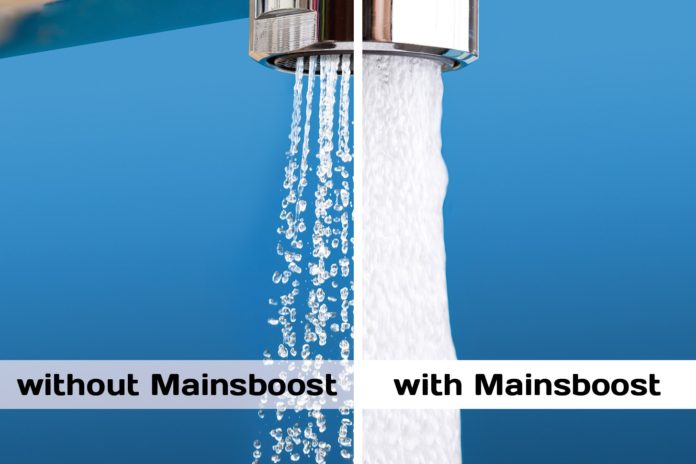 It's widely acknowledged within the industry, with more people at home during 2020 home improvements and trade enquiries increased. Stuart Turner recorded a growth in interest for their Mainsboost range, designed to solve the problem of low or intermittent mains water supply to the home and particularly, their Mainsboost Flomate MBF 60.
Designed to fit neatly within a standard 500 mm kitchen base unit and connect directly to incoming mains supply, the Mainsboost Flomate MBF 60 combines an Mainsboost Flomate pump with an additional pressurised water vessel, eliminating the need for a cold-water break tank.
At times of low mains water pressure Mainsboost Flomate MBF 60 will deliver up to 16 litres/minute flow at 3.2 bar pressure to multiple outlets within the property, up to the preset cut-in limit of the 60 litre pressure vessel, when the vessel is depleted the system will deliver 12 litres/minute, meeting the requirements of most combination boilers, until demand ends and the pressure vessel recharges. By supplementing the water pressure boosting performance of the Mainsboost Flomate pump with the supply from the pressurised water cylinder, Mainsboost Flomate MBF 60 offers the householder the ability to store water at pressure and ensure a consistent flow of water to meet demand.
Installers like this compact solution, they're easy to install, requiring no on-site commissioning, quiet in operation, supplied with a 3 Year Warranty and provide a fully assembled and tested solution to low mains water pressure problems. Mainsboost Flomate MBF 60 is WRAS approved, complies with UK water regulations and has been used by water authorities in meeting the requirements of DG2: Inadequate pressure indicators set by OFWAT.
#POWERINGWATER