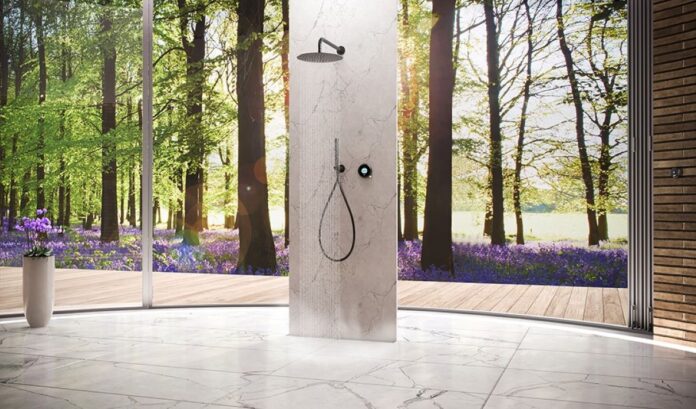 Elisa, a new premium bathroom brand, has launched in the UK. First to be unveiled in the Elisa collection will be a range of heritage-style mixer showers and smart digital showers, designed for homeowners seeking a contemporary and personalised showering experience. Smart shower technology brings enhanced wellbeing to owners through its personalisation settings, while providing greater visibility of water usage to promote sustainable living.
Sophisticated, stylish and intelligently-designed, Intuition and Incite smart digital showers offer an exceptional showering experience for the entire family. With the accompanying ShowerMe Smart App, every member of the household can create their own personal profile for a fully tailored shower routine that meets their exact needs. Users also enjoy the luxury of voice control through their existing smart home system thanks to seamless connectivity with Google Assistant or Amazon Alexa.
Elisa smart digital showers can be started remotely from anywhere over Wi-Fi, with the reassurance that the water is at the precisely desired temperature at all times. Furthermore, a bath fill option ensures the bath is filled to the perfect temperature and level every time, without the need to watch and wait.
Launching at the same time as Intuition and Incite, the Valenteena mixer shower from Elisa adds a touch of heritage luxury to any bathroom environment.
Tim Creedon, sales director for Elisa, said: "Elisa has been an exciting journey for us to bring a bold vision to life. We have worked closely with our premium showroom customers and listened to installers and homeowners alike. We believe that the future of showering is not only powered by products that provide data to the user via digital technology, encouraging new routines to reduce showering times, but also products that are engineered to last."