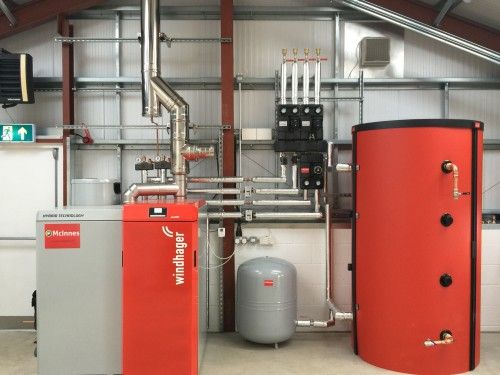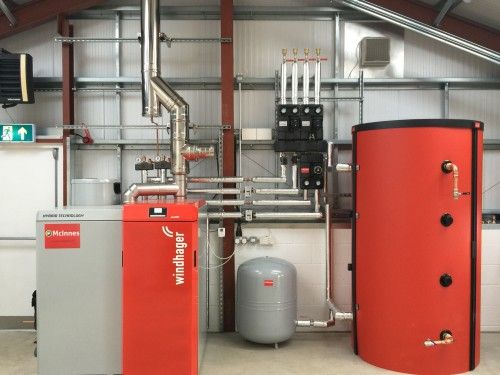 The company has installed a 56kW DuoWIN boiler, a combination of Windhager's LogWIN Klassik log gasification boiler and BioWIN2 wood pellet boiler, to heat its new premises while providing an ideal demonstration system to its customers.
McInnes Plumbing & Heating and McInnes Renewables has expanded into a new head office in the heart of Inverness's city centre, which also serves as a store and showroom open to its customers where the fully operational Windhager DuoWIN boiler can be viewed.
Lachlan McInnes, managing director of McInnes Plumbing & Heating and McInnes Renewables, said: "Our new premises did not have any heating or mains gas available and so it was up to us to install our own heating system. We wanted a boiler that we knew to be highly efficient but also one that we can use to demonstrate biomass to our clients and potential customers. By installing Windhager's DuoWIN boiler we are able to offer a demonstration of a fully automated wood pellet and log fired biomass boiler while benefiting from a reliable and sustainable heat source for our new office."
McInnes Renewables is one of the leading market experts for renewable energy installations across Scotland. The company's team of highly skilled, locally based engineers has gained Microgeneration Certification Scheme accreditation for biomass installations and are able to offer installations qualifying for the government's Renewable Heat Incentive scheme. McInnes Renewables employees have acquired a high level of technical knowledge for Windhager's products having worked with them for many years on numerous installations.
With their expert knowledge of Windhager's systems, the installers are now able to offer their visitors an exclusive demonstration of a working, fully automated BioWIN2 wood pellet boiler and a LogWIN Klassik manual log fuelled boiler in the combined DuoWIN biomass system.
Available in four models with an output up to 56kW, Windhager's DuoWIN boiler uses hybrid technology to combine heating with logs and pellets in one unit by combining two of the company's existing boilers. The intelligent hybrid technology allows the user to alternate between using logs or wood pellets to fuel the system. The system detects when the wood gasification is in burnout and switches to wood pellet operation either automatically or at a desired time. The automatic fuel switching function ensures the system remains both highly efficient and economical to run.
Both the LogWIN Klassik and the BioWIN2 have extremely compact designs which together only require 4.19m² of space for the one DuoWIN unit. Owners of Windhager's LogWIN Klassik can upgrade to the DuoWIN system at any time as it is 'pellet ready', meaning the BioWIN 2 can be added at a later date.