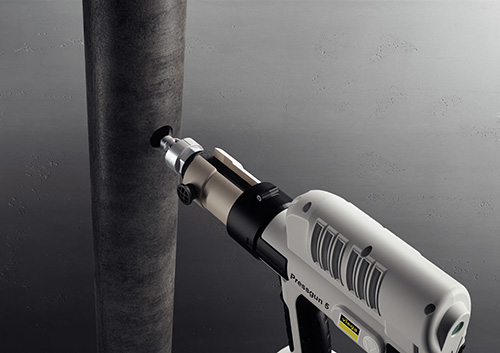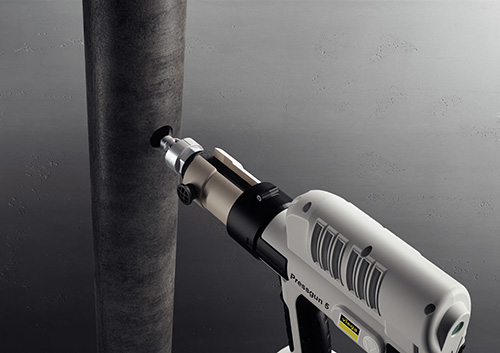 Viega has launched its new Megapress press-in connection in the UK. The system makes adding extra sensors, thermometers, drainage valves or pipe connections to thick walled pipe installations fast, simple and clean.
Additional components often have to be retrofitted into industrial pipework systems. This traditionally means having to retro-weld into the pipe, which can prove time consuming and disruptive to the building occupants, as the system commonly has to be drained while the work is completed.
The Megapress press-in connector developed by Viega provides a faster and cleaner alternative. The installation is completed in just two minutes, providing an estimated 80% time saving when compared to welding. In addition, the compact size of the connector allows branches to be added even in hard to access locations or where space around the pipework is limited.
Fitting the press-in connector is simple. The drilling guide is secured around the pipe in the correct location; the drill is then used to bore the required hole in the steel pipe while a suction device ensures that no swarf enters the pipe. Finally, the connector is pressed onto the pipe. A Viega positioning aid prevents slippage during pressing making it is possible to determine the exact orientation of the branch.
Once pressed, the Megapress press-in branch connector attaches securely to the pipe – a reliable seal is guaranteed by the integrated profile-sealing element. The connection is capable of withstanding even high loads and unlike a welded joint it can be used immediately after the installation is completed.
Scott James, director, said: "For many applications thick walled steel pipe is the preferred material. The Megapress system already provides installers with a reliable alternative to welding or threading when connecting pipe runs. The launch of the press-in connector allows retrofitted additions to be made to the pipework quickly and easily with limited system downtime."
To find out more about Viega's full range of product solutions, visit: www.viega.co.uk.