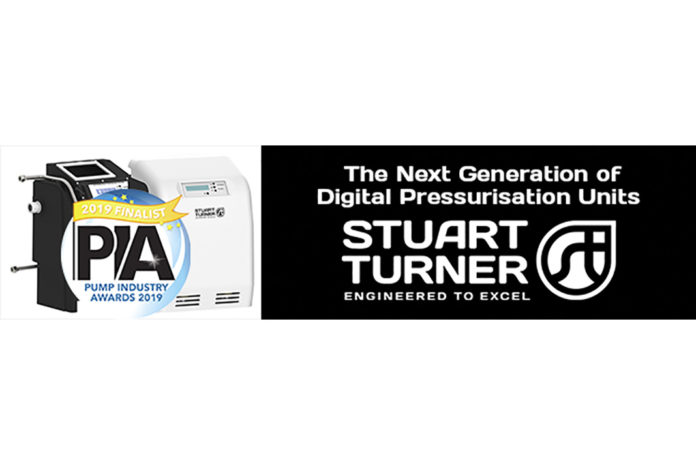 Stuart Turner has been shortlisted for product of the year with its new and innovative range of digital pressurisation units for sealed heating and chilling systems at this year's Pump Industry Awards.
Pete Lambden, project engineer and design lead, said: "We are delighted to be nominated alongside household names such as Siemens and Wilo. The Pump Industry Awards are regarded as one of the leading industry events and by putting forward our latest product development, I believe we are demonstrating the quality and engineering design capabilities here at Stuart Turner."
The Stuart Turner SPU pressurisation units present a completely new product proposition, designed and conceived with installation, form and function foremost. They offer a number of unique and innovative features, such as its patent pending monocoque water tank, which forms the basic structure onto which all other system components are fitted, in addition to a purpose designed microprocessor control system.
These units provide an automatic method of ensuring a commercial sealed heating or chilled water system is maintained at the correct operating pressure, whilst monitoring the system and reporting any possible faults such as a system leak, to ensure a quick response and reduce downtime. They are available with one (duty), or two (duty-standby) premium quality, continuously rated Stuart Turner pumps, featuring brass pump heads and impellers and are capable of filling a system from new before monitoring and maintaining the design fill pressure.
Whilst many alternative pressurisation units have relied on simplistic LED display screens, the SPU range feature an intuitive control panel with a full LCD graphics display for simple initial set-up and system self-diagnostics. Four alarm outputs, one of which is configurable along with a Modbus interface for connection to a Building Management System (BMS) are also provided.
If you would like to vote for Stuart Turner please visit: www.pumpindustryawards.com/vote-now