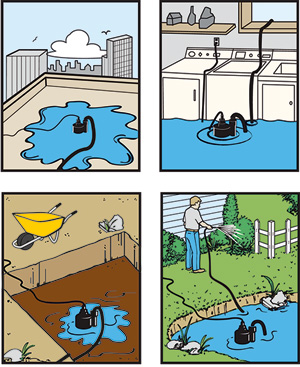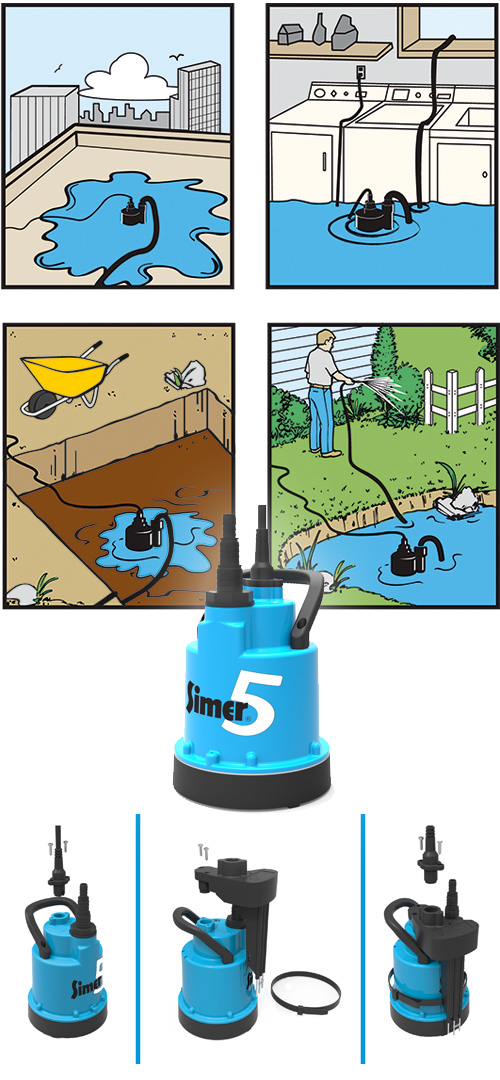 The new SIMER 5 is a low-level pump which quickly and easily removes puddles from basements or accumulated water from roofs, tennis courts, terraces, and other surfaces. The most recent redesign has left the exterior mostly unchanged. Inside, however, the pump has been completely redesigned. The new accessory, SIMER LEVEL CONTROL, now enables automatic operation of the pump when water on the ground is detected.
With high efficiency – as if wiped dry
The new SIMER 5 features more pumping power and significantly improved effectiveness. When clearing water from flat roofs or excavation pits – the SIMER pump sucks up unwanted water quickly and simply, leaving a residual water depth of just 2 mm. The pump kicks in at water depths as low as 5 mm.
An emphasis on automatic operation
The SIMER LEVEL CONTROL electrode circuit offers extra comfort. The sensor is integrated into the cable inlet and switches on the pump at a water level of approximately 7 mm. Puddles or other accumulations of water can be removed promptly and automatically in this way.
Retrofitting of the electronic switch is also an option. It can be combined with the previous model, the SIMER 4. With an additional element, the pump can be put into permanent operation. By shortening the electrodes, automatic operation can be adjusted so that the pump begins working at a higher water level. The pump will then start less frequently.
Additionally
The new SIMER pump only has a power consumption of 190 W, with improved performance in comparison to the previous model. A 10m-long power cord gives the pump enough freedom for the area of application. The pump also includes a mechanical seal, integrated overload protection, and is also suited for permanent operation during non-submersed operation. A hose adapter allows for connection of pumps of various diameters.
SIMER landing page
At www.simer.info you can find further information about the product as well as downloads. The most important components of the pump and information on its different areas of application can be seen in detail in a video. It can be found on the Jung Pumpen YouTube channel. Brochures and flyers for distribution can be requested at: jung.communication@pentair.com.