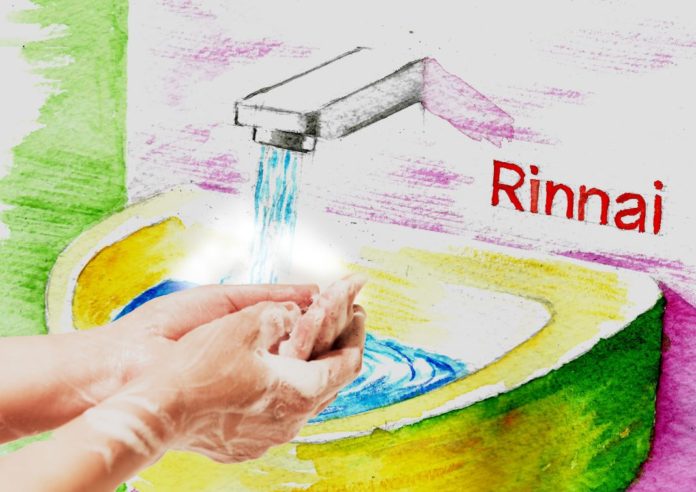 Latest product development from Rinnai is a complete mobile hand wash and hygiene station geared up to supply unlimited amounts of continuous flow hot water for any and every site needing instant access to this facility –  anywhere that needs instant handwashing –  any queue outside a supermarket, shopping area, car park, building site, temporary accommodation blocks or toilet blocks for essential services.
The station consists of a Rinnai 17e hot water delivery unit, mounted on a mobile hand wash pod, complete with water connections and secured cage. The unit is easily connected to the water supply and gas is via LPG.
The hand wash station delivers temperature accurate hot water at a pre-set temperature to facilitate, with soap, the quick breakdown of any COVID-19 bacteria. This pre-set temperature of 37 oC is not too hot but hot enough for breaking down lipid fat layers that surround the protein-based bacteria nucleus. According to trusted information sources on Covid-19, the ideal temperature for water used in hand washing, together with soap, is over 25 oC.
Heat melts fat therefore use water above 25 oC Celsius for washing hands. Hot water helps makes more foam and that makes it even more effective.
Hands should be frequently washed – for a minimum of 20 seconds – after touching any surface or food, locks, knobs, switches, remote controllers, mobile phones, computers, keyboards, desks, TV, etc. And, of course, when using the toilet.
The proprietary Rinnai technology will deliver temperature accurate hot water without any fluctuations to ensure constant supplies of hot water.
As the hand station is purpose designed to be outside so any possible contact with the virus can be minimised as users do not have to go into toilets or wash rooms, where there is potential to come in contact with surfaces or poor ventilation.
Rinnai manufactures over 2 million water heaters every year and as such is at the forefront of creating real advantages for users. Rinnai's multipoint ErP A-rated 17e needs no flue as the unit is placed outside and so waste gas gases safely escape. The unit can be pre-set with a fixed temperature which is tamper-proof.
The Rinnai 17e external internal model measures just 675 x 370 x 139mm and weighs in at 14.5kg – a one-man lift. The unit has a temperature range of 37°C to 65°C with direct electronic ignition. Gas input ranges between 4.53kW – 36kW. A single unit is readily capable of flow rates of up to 510 litres per hour at a 50°C rise and has full frost protection.
Hot water delivery flow is an impressive 17ltr per minute max flow. Nominal operation pressure is 2-3 bar however it can operate at pressures lower than 1 bar and it uses a 230V AC 50Hz 1ph power supply with an electrical consumption of 80W.
Rinnai is also offering full services for essential works support to NHS facilities, care homes, schools, and supermarkets during the lockdown.
Out of hours and weekend technical support – installers, site manager and end-users simply call 01928 531870 select technical and if the call isn't answered immediately leave a voicemail. Response will be within one hour between 0800 – 22:30 / 7 days a week.
Rinnai's Runcorn UK HQ emergency weekend opening and sales support open for emergency / essential equipment provision of new units and for spares.
Collection of new units/spares from Runcorn HQ for Saturday and Sunday. All will adopt 'safe distancing' in any contact for this or deliveries.
Weekend operational support help line – simply call 01928 531870 and select 'sales' and if the call isn't answered immediately leave a voicemail and we will be back within the hour.
Emergency delivery weekends / out of hours – under "essential works" circumstances and, where possible, Rinnai will readily offer a delivery service to site.
Available within 24hrs from Rinnai is a range of units giving instant and constant flows of hot water for hygiene and cleaning use in all healthcare, care homes and mobile hygiene units, including any new or planned sites.
If there is a constant supply of gas and water the units are guaranteed to supply temperature accurate hot water in unlimited quantities for all hygiene regimes in all types of healthcare sites or temporary accommodation.
Rinnai's complete range of hot water heating units are available for next day delivery on orders placed before the previous mid-day.
Rinnai UK is continuing to be open for business throughout the current situation with staff able to take any orders or enquiries via telephone or online and the company has excellent stock levels of all units in the range plus spares and accessories.
Installers can contact the company direct in gaining access to the supply of units.
Call 01928 531 870 or email sales@rinnaiuk.com. Alternatively use the smart online contact points "Help Me Choose" or "Ask Us a Question", all held on the website homepage at www.rinnaiuk.com.
For more information on the RINNAI product range visit:
www.rinnaiuk.com