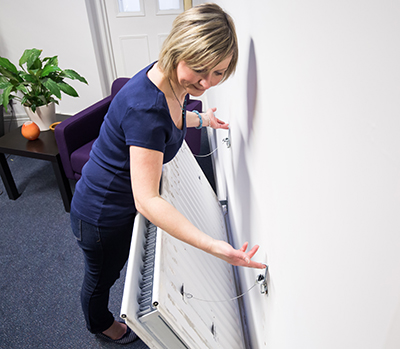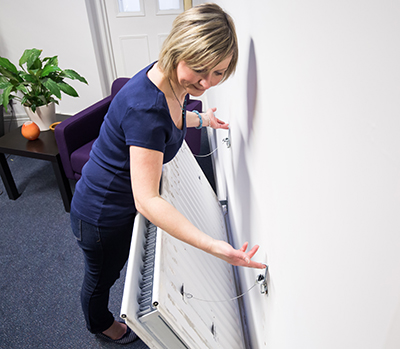 Reaching that awkward space behind the radiator to decorate has long been a time consuming issue for everyone. Now plumbing professionals can offer a solution to the problem by fitting Rotarad, a revolutionary radiator valve kit that enables easy access for both decorating and cleaning purposes with no need to turn off the water.
The Rotarad radiator valve kit is an easy retrofit for existing radiators and an obvious benefit when having new radiators installed. It enables the radiator to be lowered away from the wall to a 45 or 90 degree angle for easy and safe access, with no need to disconnect the radiator from the central heating system. A clever little valve allows the radiator to move, while maintaining water flow to the system; and a simple finger release catch, with a weight holding wire restraint, enables the radiator to be lowered safely to the desired angle.
New on the market this year the Rotarad radiator valve kit enables professional plumbers to offer their customers the ability to decorate thoroughly and raise hygiene standards, as the easy accessibility allows the more frequent removal of harmful bacteria, dust and other irritants that trigger many common allergies.
Rotarad is easy to install, suitable for most sizes of conventional radiator and is available from Screwfix online at: www.screwfix.com, B&Q online at: www.diy.com, independent plumbing and heating merchants, DIY outlets, as well as via Rotarad direct.  The standard kit has an RRP of £21.99.
For more information on the Rotarad radiator convertor kit, visit: www.rotarad.com or call 01782 385152.