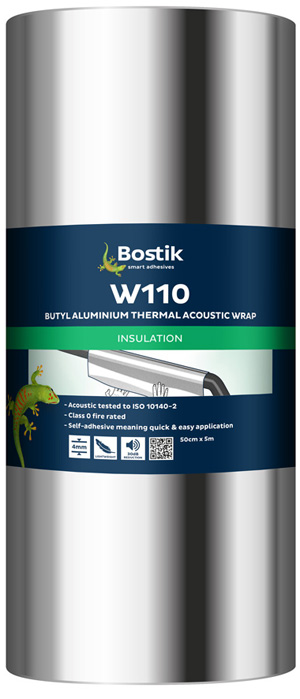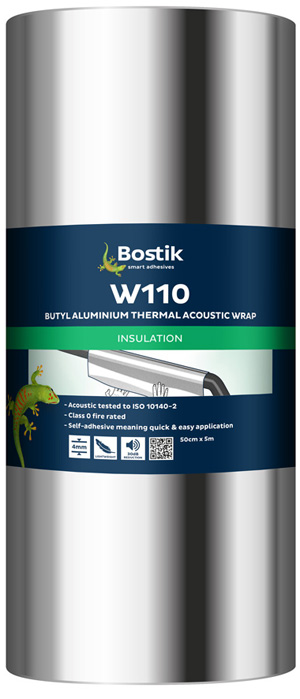 Bostik has launched a new self-adhesive thermal acoustic wrap designed to control noise breakout on plastic rainwater and soil pipes, as well as HVAC ducting. This is up to 20% quicker to install than traditional acoustic insulation products.
Supplied on a compact and lightweight roll, Bostik W110 forms an instant bond around pipework with no need for the extra banding or clips that are associated with the more traditional products on the market. It's just 4mm thick, meaning it's easy to handle and cut, and can be used in tight applications with less room taken up on site.
Consisting of a thermal acoustic layer laminated between two layers of high-performance pressure sensitive butyl and finished with an aluminium face, Bostik W110 is Class 0 fire rated and acoustic tested to ISO 10140-2, with a weighted sound reduction index of up to 30dB. The butyl adhesive also acts as a barrier to contain any potential moisture build-up.
Commenting on the launch, Andrew Hamman, category manager for thermal construction, said: "This launch is the culmination of months of research and development in partnership with a leading thermal insulation contractor.
"We took on board the contractor's request for an acoustic insulation product that's easy and safe to handle and quick to install.
"Our site trials have shown that W110's lightweight and self-adhesive properties have resulted in a product that's up to 20% quicker to install than traditional products on the market, with no compromise on performance."
For more information, email: thermal.construction@bostik.com or call: 01785 272625.