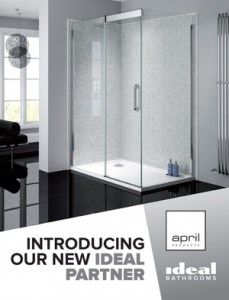 Ideal Bathrooms has annoucned April Products is joining its brand portfolio. As enclosure brands, sold exclusively through distribution, April Products are now partnering with a national distributor. Ideal Bathrooms will be stocking the full range of April Products shower enclosures and trays for next day delivery
Following a strategic review of its distribution needs, April Products chose Ideal Bathrooms as the distributor best suited to achieving its growth plans.
Ideal Bathrooms has now taken stock of all products within the April range, representing a quarter million pounds of stockholding across 190 stock keeping units.
April Products' heritage in the bathroom market spans over 100 years.
The range of April shower enclosures and trays will feature in the next edition of Ideal Bathrooms' Yellow Price Guide due out in July. In the meantime, a product brochure and price list is being issued to all Ideal Bathrooms' existing customers and is available for new customers wishing to add a key showering brand to its customer offering.