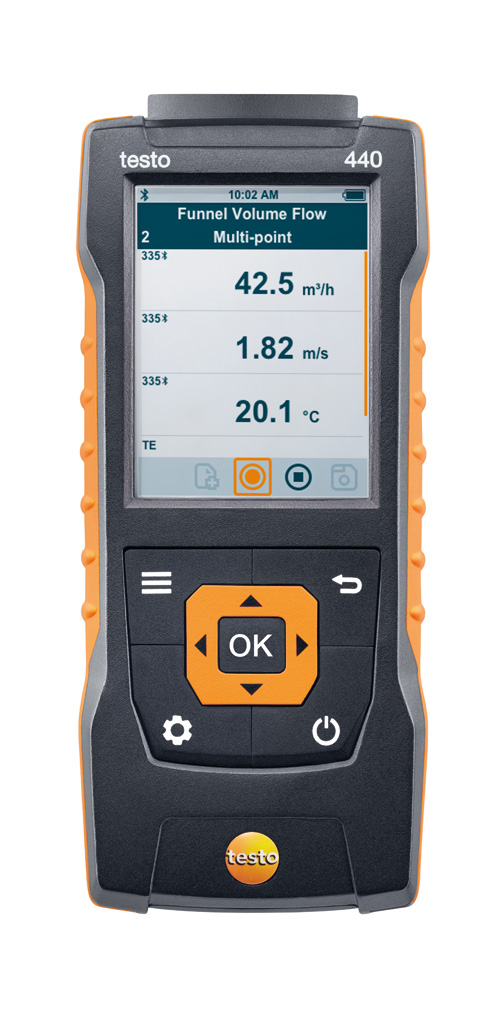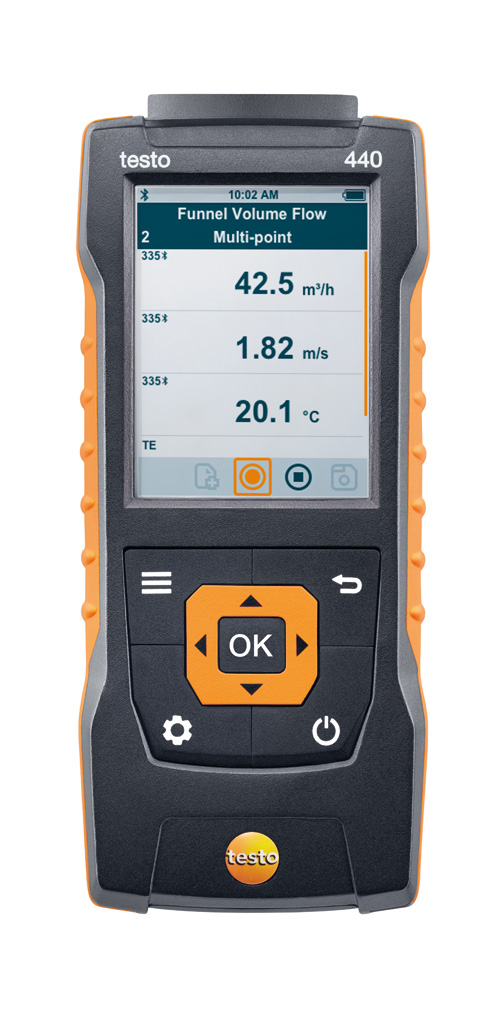 Building on 60 years of experience and innovation, measurement instrumentation specialist, Testo, is launching a new air velocity & IAQ measuring instrument on to the market.
The testo 440 combines a compact handheld measuring instrument with user-friendly measurement menus and wide selection of wireless probes – for the versatile and convenient measurement of all air conditioning, ventilation, and indoor air quality parameters.
Wherever a pleasant indoor climate and optimally adjusted ventilation system is crucial such as in offices, public buildings, laboratories or industrial production there comes a requirement for a versatile and high-quality test and measurement instrument to be used by commissioning and service engineers.
The measurement of air velocity, air quality, and comfort parameters often takes place according to standardised procedures. In order to simplify work for the user, clearly structured menus for the following measurements are pre-set in the testo 440: Volume flow measurement in ducts and at outlets, k-factor, degree of turbulence according to EN ISO 7730/ASHREA 55, cooling/heating load, mould indication and long-term measurement (recording of measurement values at set intervals).
The probes available for the testo 440 include air velocity, temperature, humidity, degree of turbulence, ambient carbon dioxide, carbon monoxide and light intensity. Customers have the choice between wireless and fixed-cable models. The wireless Bluetooth® probes ensure more freedom of movement in measurement and save space in the measurement case. In addition to this, a probe handle can be universally combined with all corresponding probes and probe attachments. This allows you to switch in seconds from indoor air quality measurement to a determination of volume flow at a vent.
The large colour display of the testo 440 shows up to three measurement values simultaneously. It also allows easy configuration of the measurements as well as a view of results at a glance. The instrument's memory can record up to 7,500 measurement protocols. These can be exported as an Excel file via a USB interface. A printer for documentation on site is also available as an optional accessory.
The testo 440 multi-function measuring instrument is available in two versions. The model testo 440 dP is technically identical to the regular version, however, it has an additional, integrated differential pressure sensor. This makes measurements at filters as well as Pitot tube and k-factor measurements possible. Pre-configured kits consisting of measuring instruments, probes and accessories are available for the most important areas of application.