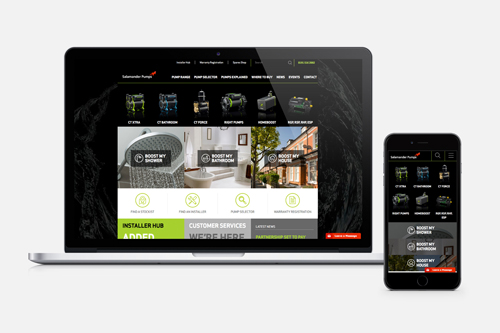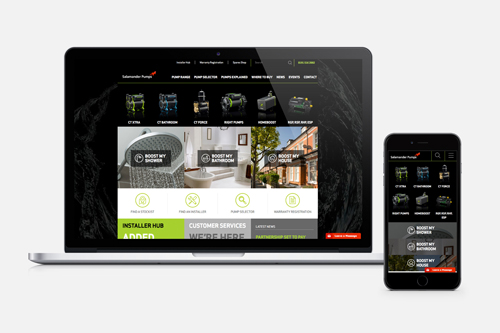 Salamander Pumps has launched a new user-friendly website (accessible at: www.salamanderpumps.co.uk) designed to make life easier for installers, householders, distributors, and stockists. It includes a range of innovative additions, including a noise section where users can listen to a pump in action, see it rated against everyday noises such as a boiling kettle, and find more information around dBA ratings across the range.
The company worked with Newcastle-based, Hippo Marketing, on a six-month project to create a new website based on a combination of feedback from installers and other users, plus analysis of traffic patterns on its previous website.
The new site's features include a product comparison facility, an improved pump selector, a dedicated installer hub, and more extensive technical information. The site also features the newly launched Right Pump range.
Designed to work on a range of devices, selecting spares and accessories has been made easier with a refreshed spares shop.
A new events section provides details of where and when Salamander's team is running breakfast briefings and attending exhibitions and trade events, offering pump demonstrations and cash back on products.
Sales and marketing director, Chris Vallance, said: "Our new site is designed to appeal to installers and householders, as well as merchants and stockists.
"A new tool provides the ability to compare pumps within our range and the new and improved pump selector function means anyone looking to replace a pump can type the name and model of their existing pump in to find out which Salamander pump to replace it with."
The site also has a new dedicated hub where installers can apply for Salamander's UK installer network, register their loyalty points, and access training modules. It also includes direct links to the Salamander merchants and online retailers.
Chris continued: "We listened to what users told us they wanted in a website, and first reactions are that we have created a great user-friendly experience, giving people all the support they need in one place.
"The new site is much faster and easier to navigate, and together with a clean design and improved photography we are confident that it better reflects our brand and our products."