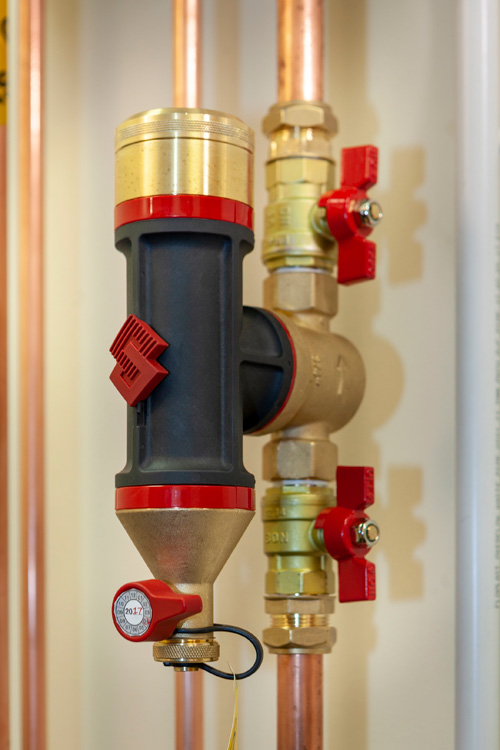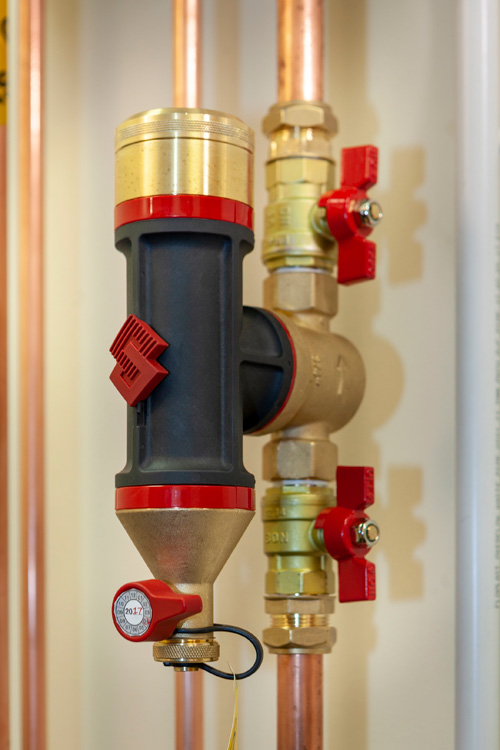 Flamco has launched RedProtect© – a package that comes as a highly effective filter with chemicals that fit neatly inside the filter.
The RedProtect© Filter creates 50% lower pressure loss than other water treatment filter units on the market, which results in an up to eight per cent reduction in energy consumption of the system's circulation pump
This is a water treatment system that does not rely on liquid chemicals, or a gel. It's a solid – it's a number of tablets that fit neatly inside a plastic container that slots into the filter.
RedProtect© Inhibitor (RP1) far exceeds the performance criteria required by the BuildCert Chemical Inhibitor Approval Scheme (CIAS) – RP1 offered 600% greater protection for aluminium and 360% for mild steel.
RedProtect© Cleaner (RP2) is a concentrated universal cleaning agent in tablet form. RP2 is capable of solubilising installations greases and debris, as well as mobilising older, more established magnetic and non-magnetic system debris
The use of RedProtect© chemicals offers the heating industry the ideal opportunity to reduce the amount of plastic waste generated after use of the chemical, in line with global and local opinion on plastic waste in the environment.
Compared to traditional liquid domestic heating chemicals, the RedProtect© system offers approximately an 84% reduction in plastic packaging content when compared to a traditional one litre chemical jerrycan and an approximately 77% reduction in plastic when compared to a standard 0.5 litre chemical bottle.
As a concentrated range, Flamco is able to minimise the dimensions and weight of the products, greatly reducing its carbon footprint. One dose of RP1 Corrosion Inhibitor weighs less than 100g compared to over 500g for a competitor's 0.5 litre bottle or over 1kg for a one litre alternative.
The RedProtect© product greatly exceeds the performance criteria as set by the BuildCert Approval Scheme and has the full endorsement of the Energy Saving Trust for the effectiveness of RP1 Corrosion Inhibitor in maintaining system efficiency.
John Lynch, sales manager – domestic for Flamco, said: "From the reduced energy consumption of the circulating pump, to the simplicity of the system, the cleanliness, the reduced weight and the significant environmental benefits, RedProtect© is a winner from every angle.
"It's easier and lighter to transport without spilling risks and will be a popular option in the merchants and in installers vans, contributing to so many companies own environmental programmes."