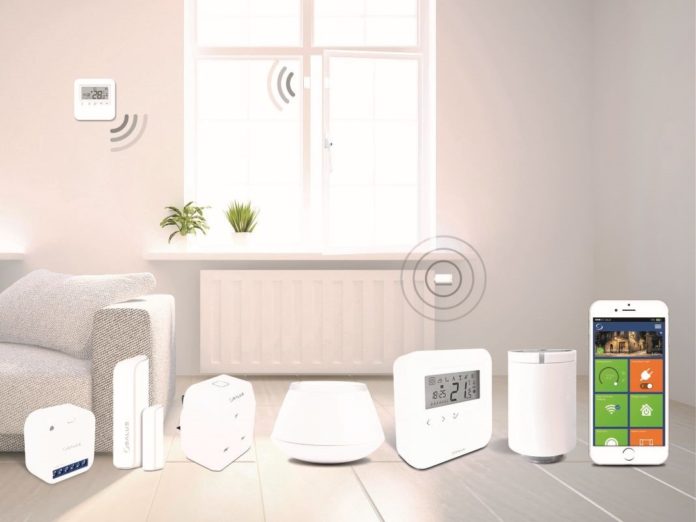 The Smart Home system from SALUS offers an extensive range of connected products that enable homeowners to run their home from their phone.
The Smart Home system from heating controls specialist SALUS not only offers an extensive range of connected products that enable homeowners to run their home from their phone, tablet, computer, or even via a Smart Assistant, it is also an effective way to drive energy efficiency and save money on heating bills – and not just via the thermostat.
Heating is generally the biggest factor of energy bills in the UK – accounting for 53% of money spent on gas and electricity. However, by replacing a traditional thermostat with a SALUS smart thermostat, especially one that can self-learn behaviours and adjust accordingly, it is estimated that homeowners can save between 8.4% and 16.5% on heating bills alone – somewhere between £180-£300 per year.
What makes the SALUS Smart Home system different to any other is the way in which the devices can interact with each other, and as such the permutations for controlling devices within the home are endless. Its multiple rule options mean there is even more scope for reducing energy expenditure. For example, the system can detect when the user leaves or returns home using data from the home and will turn the heating off and on automatically. A schedule can be set and over time the system will learn the user's habits and programme itself and provide regular energy usage reports too.
The heating can work with other smart devices in the home, including doors and windows, lighting and security cameras. By linking a smart plug and door sensor to the heating, the system can be set so that when the door is opened, it switches the light on nearest the front door and turns down the heating until the door closes. When combined with an underfloor heating (UFH), the savings can be around 20-30% more than conventional heating systems.
Dean Jepson, European managing director at SALUS, commented: "We want customers and installers to understand that our Smart Home system goes way beyond the benefits of convenience, control and flexibility. Not only can it set heating and hot water schedules according to the user's daily and weekly routines and ensure that heat is never wasted on an empty home thanks to its Geo Location feature, it can connect to other devices in the home to further improve energy efficiency. Energy management is no longer just about upgrading to a smart thermostat. It's about connecting devices so that they can work together to combat energy wastage.
"It's estimated that around 25% of consumers in the UK currently own at least one smart home device, and latest research suggests that 50% of consumers are likely to install smart heating products in their homes over the next five years. This represents a lucrative opportunity for installers to grow their business and help customers realise real savings. However, the time to embrace the connected Smart Home is now; otherwise installers may find that the learning curve will be too steep in the future," added Dean.
SALUS devices currently available include; smart plugs, door and window sensors, an electric monitor that provides data on any particular appliance, a range of Boiler Plus compliant thermostats for traditional wet systems, and an array of underfloor heating thermostats. Smart radiator controls, smart buttons, an Appstat, and smart relay are also available. A water leak detector, smoke alarm and CO alarm are set to join the range soon.