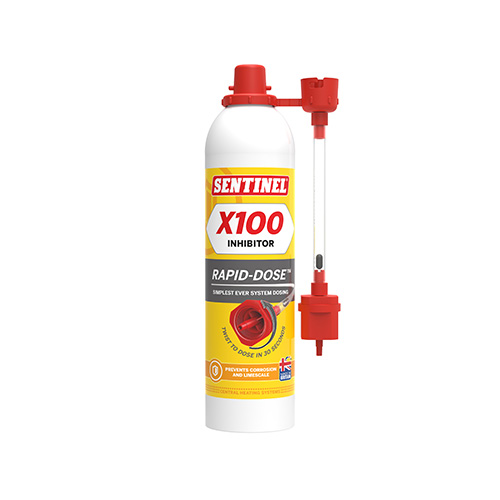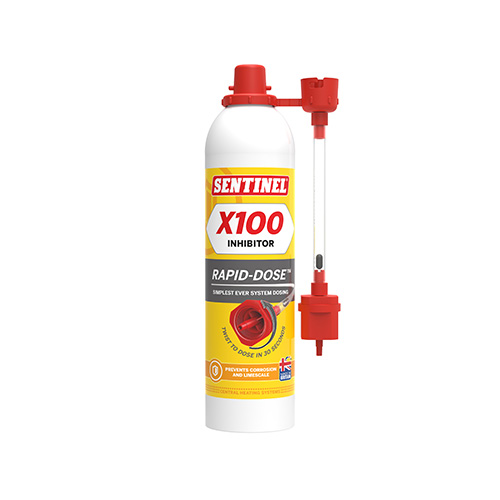 Dosing heating systems with Sentinel's water treatment chemicals is now easier and faster thanks to Sentinel's new Rapid-Dose. This innovative aerosol features a unique pre-assembled adapter and 'twist and dose' mechanism that allows easy hands-free dosing of a system in 30 seconds. This makes it ideal for everyday jobs in addition to service, emergency, pre-dose and social housing applications where time is limited.
The distinctive Rapid-Dose adapter can be used in an extended number of locations, such as via a radiator, male filling loop stop valve, bleed valve, boiler drain valve, and many filters (via the vent pin), giving maximum flexibility to the installer even when working on awkward or difficult to reach systems.
Sentinel's X100 Inhibitor, X400 High Performance Cleaner and Leak Sealer chemicals are available in the new Rapid-Dose format. Furthermore, installers that don't like the new X100 Rapid-Dose can claim a free bottle of X100 Inhibitor from Sentinel (subject to T&Cs).
Daniel Cheung, UK trade marketing manager, said: "Installers will love the new Rapid-Dose. It saves time on site, is easy to use, can be connected to multiple locations, and there's no loss of product or spillage. It's yet another Sentinel product which engineers can use to help give them the edge over their competitors."
For more information on new Rapid-Dose, contact Sentinel on: 01928 704330 or visit: sentinelprotects.com.