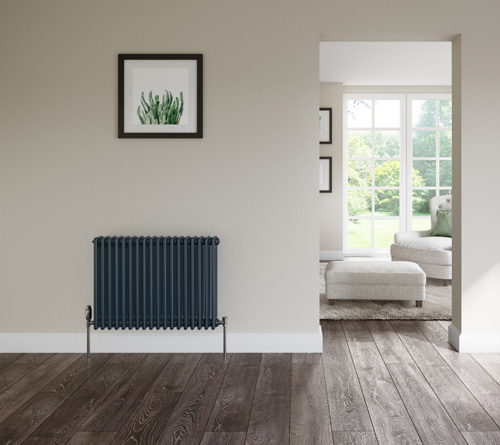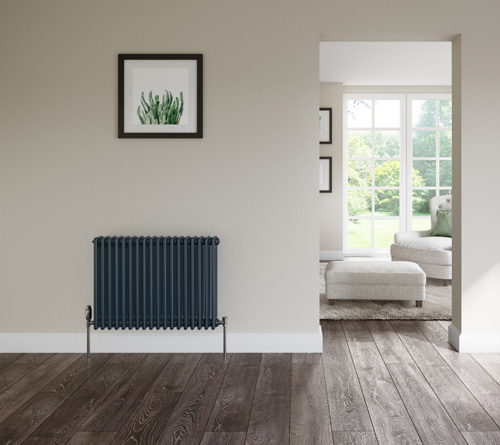 Any doubts that coloured radiators are becoming mainstream in the UK heating sector have been blown away with the arrival of the Stelrad Vita Column Concept radiator. This is a 600mm high traditional column radiator that is now available from stock in Anthracite grey.
The new radiator has joined the phenomenally successful Vita Series range and begins the process of seeing coloured radiators available from stock, anywhere around the UK within 72 hours of order. Until now, radiators have been available in up to 35 colours, but there has been an order delivery delay of up to eight weeks as they were specially made for the customer.
A similar radiator will be available to those customers who choose to buy Stelrad's sister brand of radiators, Henrad, with the Henrad Column Concept available in Slate grey with immediate effect.
Marketing manager Chris Harvey, said: "We are seeing the number of orders we get for coloured radiators increasing month by month and it was a natural progression to begin to stock some of our best performing coloured radiators for immediate delivery.
"Interior Decorators have seen the benefits of coloured radiators for some time and been willing to order them with the eight-week lead time that special paint jobs require. However, the interest in coloured radiators is growing and we have begun what we see as an inevitable trend towards stocking a small number of those colours and models that we see ordered regularly, for immediate delivery. The first of these is the Vita Column Concept in Anthracite grey, but others will follow."
To paraphrase the famous quote by Henry Ford, that you could 'have a Ford car in any colour so long as it was black,' radiators have traditionally been available in any colour so long as they were white. However, over the past couple of years the demand for coloured radiators has been on the up and Stelrad has been happy to respond to the new trend with multi-coloured options available for a number of their products. In particular statement radiators like their curved fronted Swing and tubular bathroom radiators like the Caliente Rail, which has been ordered in reds and blues in particular as features in bathrooms and wet rooms.
Chris continued: "It's clear that radiators are now being seen by many as decorative features, rather than the perhaps unflattering traditional view that they were simply a heating appliance – that you almost hid in the room.
"We are seeing far higher sales of the decorative and designer radiators we manufacture here in the UK and alongside this, we're seeing the trend for coloured radiators very much on the rise. We anticipate significant increases in sales of coloured radiators in the months ahead."
To find out more, visit: www.stelrad.com. You can also see regular updates from Stelrad on Twitter: @Stelrad and Facebook: StelradRadiators.