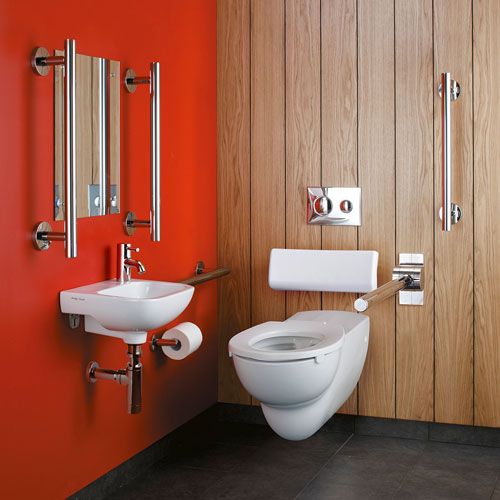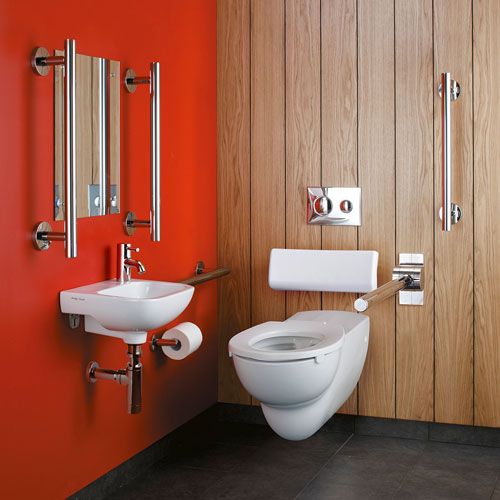 Britain's leading sanitaryware brand has launched new Doc M packs which make it easier for specifiers and building managers to ensure their facilities fulfil Part M of the Building Regulations and satisfy the 2010 Equality Act.
Despite offering the broadest range of Part M products, Armitage Shanks has developed comprehensive Doc M packs which make it quick and easy to specify what is required according to the type of facility.
Itemised packs, floorplans and guidance are available online and in print for single toilet facilities, multiple toilet facilities, hotel facilities, public shower facilities and washrooms.
Tony Rheinberg, senior sector marketing manager, said: "This year sees our brand celebrate its bicentenary and as the last remaining sanitaryware manufacturer in Britain, we certainly have a lot of knowledge when it comes to meeting diverse customer needs.
"Our Doc M packs and our broad range of Part M products demonstrate this and offer specifiers the perfect fit, whatever their application may be.
"In fact, we're so confident in the products we create that we offer a lifetime guarantee on all ceramic items and a five-year guarantee on our taps, mixers, toilet seats, stainless steel and cistern fittings."
Working with industry professionals, Armitage Shanks has extended its range of Part M products which meet the stipulations of the Act, which requires that commercial and public buildings are entirely suitable for the use of disabled people.
The brand's packs and the products within them are ideal for use in hotels, offices, public buildings and healthcare institutions and many of the packs contain the latest in healthcare washroom innovation.
New to the Part M offering are an improved range of back-to-wall and wall-hung WC pan designs, which offer a more modern and smooth-sided aesthetic. It also features an improved TMV3-approved sequential thermostatic tap, which is easier to use, safer and better looking than its predecessor.
These new products, along with the existing Part M lines available from Armitage Shanks, are supported by a new Part M brochure, which is available on IdealSpec, the Ideal Standard and Armitage Shanks online information hub and product data portal for specification and specifiers.
Ideal Standard also offers a dedicated CPD course: 'And as a member of The CPD Certification Service, Ideal Standard provide accredited training, workshops and events suitable for Continuing Professional Development – with a dedicated course on 'Part M – Accessible Bathrooms in the Home'.
The products offered cover the hugely varied requirements of Part M, providing specifiers with flexibility in choice and design. An example of the Doc M packs available is Peninsular Care, which offers the perfect washroom solution for spaces where access for wheelchair users and carers is required.
Armitage Shanks has over two decades of experience in collating Part M products into packs and over a century of experience in the healthcare sector. Each item within the packs is approved by Local Authority Building Control, meaning specifiers do not have to worry that using any product could result in a dispute with their relevant planning authority.
Each product manufactured by Armitage Shanks for Part M compliance is tested above and beyond industry standards to ensure that items can handle weight stress and offer greater general durability. These tests mean that the brand is able to offer products of the highest quality that last longer, presenting a better value purchase to a specifier.