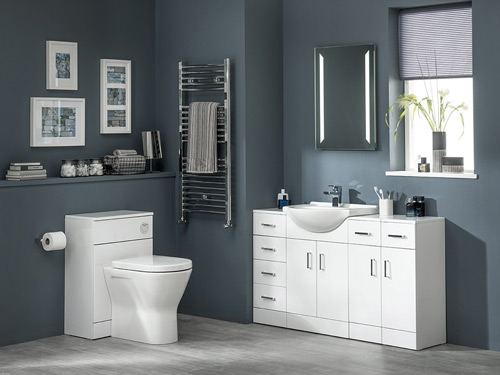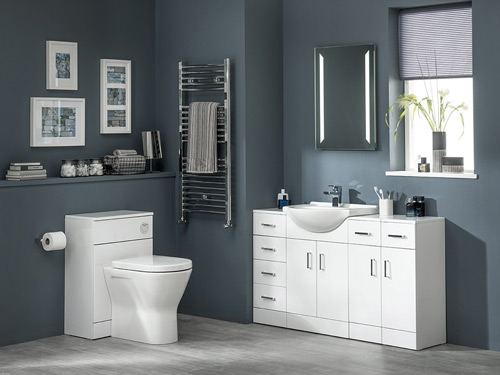 Graham Plumbers' Merchant has recently added brand new ranges to its popular Alterna collection. The latest options include three different ranges of modular and fitted furniture, which all have a ten-year guarantee. They are perfect for customers seeking something attractive and show home ready, but also durable products.
The Alaska is an on-trend update of the previous Gem range. It is available in white for a clean and modern appearance, and is also moisture resistant with soft close hinges on all cabinets. What's more, for those customers looking for ease and peace of mind, the Alaska comes readily assembled with basins (on relevant units) and solid metal handles.
The Modern, Curve and Classic ranges are all modular pieces that have been added to the collection. Modern has a stylish look with neat square edges, and is available in cashmere, white and dark grey. Curve is designed to add elegance to any space, with curved edges and is available in two colours with a textured finish, light grey and dark grey. Classic is designed with a sophisticated traditional look with a painted wood texture and colour-matched interior. Classic is available in two colours; mussel ash and stone grey. Soft close doors and drawers and solid cast handles are standard across these ranges with matching mirrors, tall units and bath panels available.
The fitted furniture range of the Alterna collection has received an impressive update. The three styles that have been added are the contemporary integrated handle, classic shaker and modern slab. All styles are manufactured in the U.K., and are a mix of modern and traditional, representing a range of different interior spaces. They can be used as single feature pieces or used to create a personalised fitted design.
These successful updates and additions to the Alterna range will add the glossy design magazine touch to your home, as well as the reliability that will enable the products to last for years to come.
For more information, visit: www.grahamplumbersmerchant.co.uk.