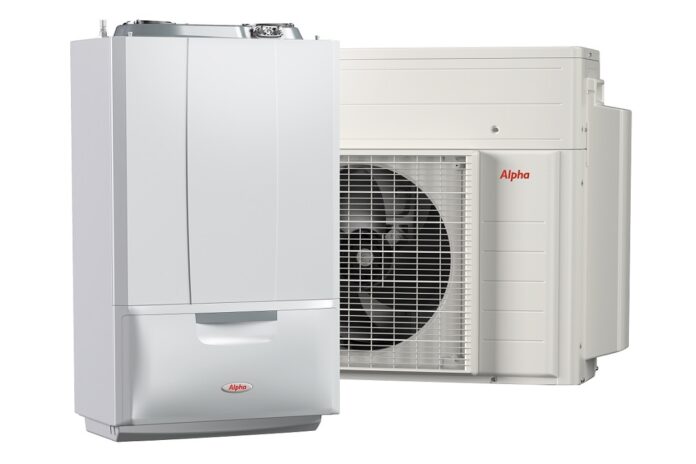 Alpha has launched a brand-new hybrid heating system: the E-Tec Hybrid. The new packaged heat pump solution offers a pathway into renewable heating without losing the reliability offered by the tried-and-tested gas boiler.
Offering a full hybrid solution, the Alpha E-Tec 33 boiler is connected with the Alpha E-Tec EHP external heat pump unit. Combine this with the Smartech controls, and you have high efficiency heating and hot water, providing consumers with a green heating alternative.
Alpha's new hybrid system automatically adjusts the heating flow and water temperature in the radiators depending on demand and outside temperature. The new system can also run-on existing pipework meaning that drastic changes to heating systems, such as upgrading radiators is not necessary.
Features:
Always chooses the cheapest fuel source based on the current energy tariff
Instantaneous hot water on demand; no need for stored hot water
No need to upgrade existing heating system; minimising install costs
Simple hydronic layout; easy to install, typically one-day installation
Hydrogen blend compatible (up to 20% hydrogen)
Anti-freeze protection, without the need of glycol
5 Year Warranty on approved and correctly installed/maintained installation
Alpha encourages installers to attend its free training centres in order to improve product knowledge and skills and stay up –to date with the latest innovations. Hybrid training is available in several locations nationwide, namely: Alpha's head office in Kent; Barnsley, Glasgow, Plymouth and Walsall.
For information about Alpha's E-Tec Hybrid, visit: https://www.alpha-innovation.co.uk/products/Air+source+heat+pumps/E-Tec+Hybrid/1162632440