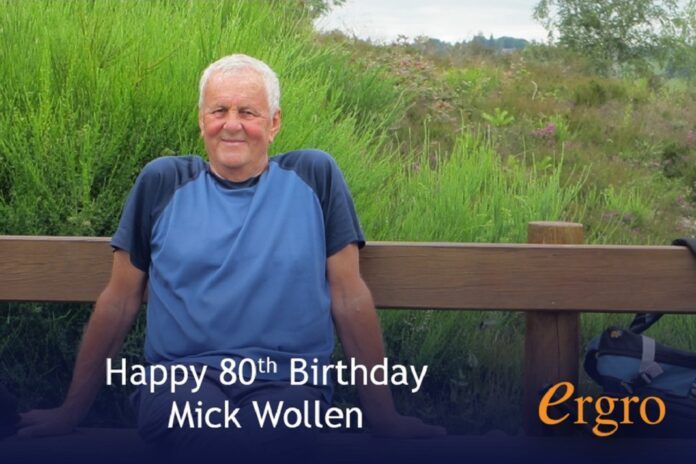 Building company Ergro has reported that it is celebrating as one of its 'oldest and wisest' site team members, Mick Wollen, mechanical fitter supervisor, turns 80 years old.
Mick started his engineering career as an apprentice toolmaker in 1958, eventually leading him into working as a mechanical fitter and becoming one of the founding directors of Ergro in the early 90s.
Following a failed attempt at retirement in the early 00s, these days Mick spends his weekdays back 'on the tools' as part of the mechanical projects team, assisting installations and mentoring the apprentice engineers, a statement has said.
Mick said: "I like working, I always have worked hard, I like the banter with the rest of the team and it keeps me young and active."
"You need to have the attitude that you get up every morning and look forward to going to work. You should never get a day when you say 'I don't want to go to work today.', I never had a day like that.
"The youngsters seem to get the hump about things when they don't go how they want them, but you've got to let that go over your head and look forward to the next day and don't get disheartened with it."
Max King, Ergro's apprentice engineer, said: "Having Mick on site at 80 years of age is an incredible achievement. Being able to work alongside someone who has as much experience and knowledge of this industry is great for myself as an apprentice.
"He is always keen to grab a pair of spanners and help out when completing installs – especially when it involves ripping out copper!
"Mick is a great person to have around and is always happy and ready to tell you one of his previous life experiences."
Paul Martin, Ergro's managing director, added: "Mick is a stalwart of Ergro. An inspiration to his peers, a mentor to our apprentices and calm confidence for our clients.
"Quality engineering is at the core of Ergro and I believe this was derived from Mick and his ability to find a technical solution where others had failed.
"I have always aspired to his 10:90 work/life balance, with months spent abroad on holiday. Happy 80th birthday Mick."