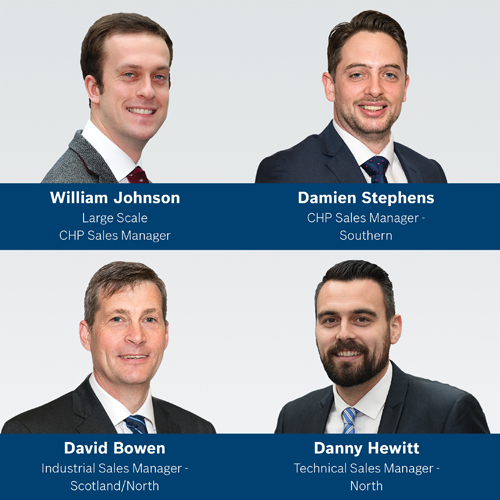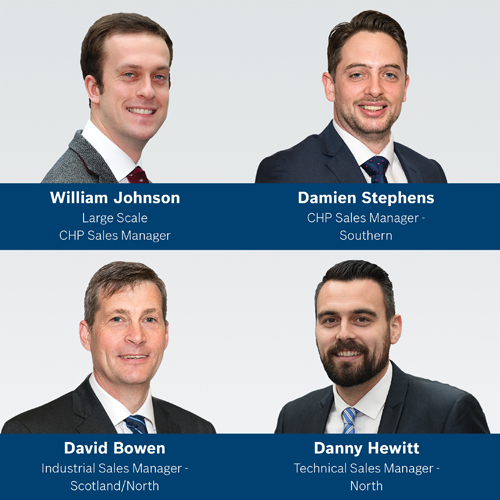 Following a continued period of growth, Bosch Commercial and Industrial Heating has invested in its sales team with the appointment of four new specialist sales managers.
William Johnson, David Bowen, Damien Stephens and Danny Hewitt join Bosch with over 30 years' experience in the industry. Between them the four will cover all areas of the business from Combined Heat and Power (CHP) to hot water and steam boilers at both a regional and national level.
William takes on the role of Large Scale CHP sales manager. William is tasked with demonstrating the efficiency and CO2 gains CHP offers large businesses throughout the UK and encourage them to harness the technology's benefits. Prior to joining Bosch, William's degree in engineering management saw him to work in China and Australia before taking up a position in the UK commercial boiler industry three and a half years ago.
David takes up the role of industrial sales manager for the North and Scotland. David has worked in industrial boiler sales and project management roles for more than ten years, specialising in large steam and hot water projects and is able to help buyers identify and select the most efficient and cost effective equipment from Bosch's extensive industrial steam and hot water boiler range.
Accompanying David, at the other end of the country, Damien, has been made southern sales manager for CHP. Damien began his career on the trade side in warehousing at 19, before spending the last eight years based in Romford and East London in a sales and key accounts manager role.
The final new addition to the company is new commercial and industrial sales manager, Danny who brings with him 12 years of sector experience having started off at the age of 18 on a trade counter. He later moved into distribution before becoming a sales manager in the North East for a leading pumps manufacturer. His new role will see him look after the boiler and plantroom needs of North from his base in Leeds.
Geoff Hobbs, business development director at Bosch Commercial and Industrial Heating, said: "We are delighted to add four enthusiastic and experienced individuals such as William, David, Damien and Danny to the company at what is a very exciting time for our business. The presence of the brand is continuing to grow within the commercial and industrial sectors and the technical expertise and industry knowledge they bring to their respective roles will only help us to continue this momentum.
"We now have a stronger team of sales experts than ever before, with a wealth of experience and relevant industry qualifications they will continue to provide the first class customer service people expect from a global brand such as Bosch."