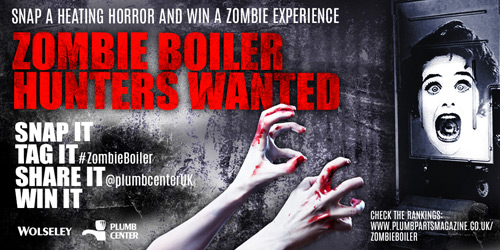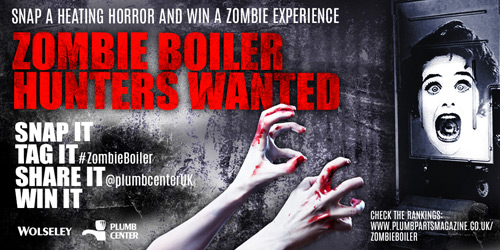 'Zombie Boilers' are being targeted this October in a campaign from the UK's largest plumbing and heating specialist, Wolseley Plumb Center.
Launched on October 2 and running up to Halloween and beyond, Wolseley Plumb Center is urging installers to unearth boiler horrors they spot on jobs and encourage homeowners to replace them because of the threat they pose. Easy to detect, these zombies let out moans and groans from worn-out parts and pipes, and result in costly winter fuel bills.
Installers can follow the campaign on Twitter by using #zombieboiler and enter a competition to win a zombie experience by tweeting @plumbcenterUK photos of boiler horrors they spot and slay.
Wolseley category director heating and renewables, Richard Harvey, said: "Homeowners should fear the warming dead – these boilers hide away in our homes gorging on energy, threatening freezing winter breakdowns, and sending bills rocketing. We're urging heating engineers to unearth these relics and let homeowners know they have a horror in their midst that isn't doing its job of heating their house properly."
More than nine in every ten of the UK's 25 million homes has gas central heating and a third of these – around nine million – are estimated to house an ageing, inefficient boiler. Worse still, two million of these are believed to be heated by a boiler so decrepit they have been labelled 'zombie boilers'. They look alive, but do not function in any rational form.
Richard added: "If these were real zombies, this would be an apocalypse. We want to support heating engineers and UK homeowners to rid homes of these aged boilers that burn cash. They don't heat properly, they give out emissions and risk breakdowns at the most inconvenient of times."
Wolseley is offering five facts to help heating engineers drive the message home with customers:
It's estimated one in four homeowners have a boiler breakdown each year. The older the boiler, the more likely this is to happen and Wolseley figures show over two thirds of boiler sales happen in winter, showing these beasts are more likely to come out in the darker months.
Energy Savings Trust statistics show heating accounts for around 60% of annual energy bill expenditure, with savings of up to £350 per year for those who switch from an aged G-rated boiler to a new, A-rated model.
Customers can tell if they live with a zombie boiler by the unpleasant noise it makes. Low pressure, a worn-out fan or pump, or a blocked pipe will culminate in a woeful cacophony or moans and groans. If their boiler sounds like an angry beast, it's time to get rid once and for all.
Zombies are uncontrollable, guzzling gas and money in a constant state of on or off, with no in-between. Contemporary controls used on a new boiler can result in a further £75-£155 a year saving.
Homeowners may also be harbouring radiator victims of their own zombie boiler attack. The foul sludge created by an ageing system gathers and festers in radiators, rendering them inefficient, and in the worst cases, completely incapable of heating a home. A poorly performing radiator can also significantly harm a boiler's efficiency, and old, damaged products are also just as in need of replacement. Filters and water treatment additives may help a system like this, but a full service and system flush will be needed first to make an Impact.