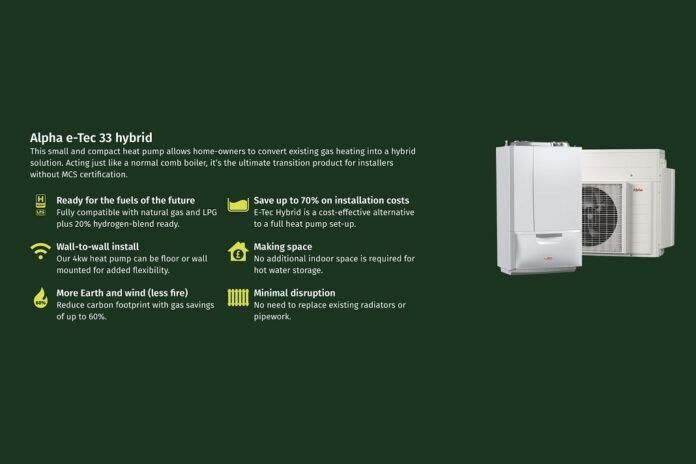 Wolseley has announced a partnership with Immergas to bring its Alpha hybrid heating range to the UK.
The hybrid heat pump/boiler market offered heating installers and householders broader options in the UK's net zero energy transition, a statement said, adding this was part of Wolseley's ongoing innovation programme that is to support the reduction of carbon from heating.
Alpha's E-Tec Hybrid range offers a combined package of an external heat pump unit and internal gas boiler, so that depending on demand and outside temperature the system switches automatically between heat supply sources when required.
The hybrid solution costs between £5,000 and £6,000, less than a typical air source, or ground source, heat pump-only solution, Wolseley vowed.
John Hancock, chief operating officer at Wolseley Group, said: "Hybrids are the bridging technology to sustainable home heating that the UK has been waiting for.
"The scenario is familiar: householders want to switch from gas but are put off by the purchase and installation costs of heat pumps, and concerns about whether their homes will stay warm.
"In time all heating will use fully sustainable heating sources, but until then hybrids hold the key to achieving the scale of transition that the government has committed to.
"By broadening the scope of public subsidies to include hybrid heating technology, the government can accelerate that transition, and drive the change in the plumbing and heating trades that will need to support it."
In a study by Wolseley, more than half of a sample of UK householders questioned said they wanted to consider the environment with their choice of heating technology when next replacing their boiler.
A total of 60% said a lack of knowledge or wanting more clarity on government subsidies about more sustainable heat sources stood in the way. Almost three quarters would look to switch from gas, oil or electric heating for cheaper long-term energy costs.