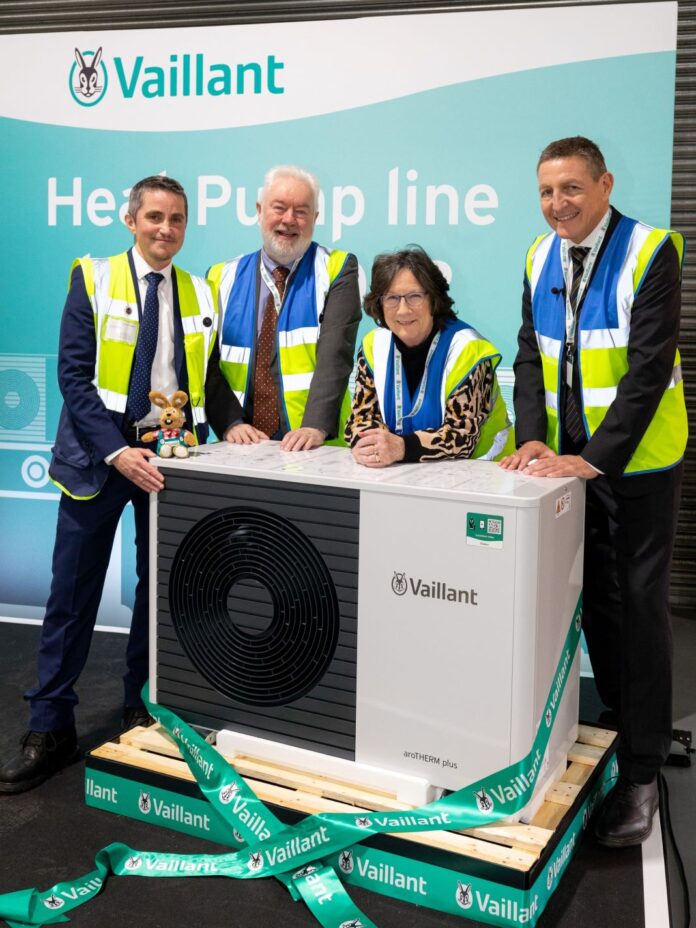 Vaillant has today (21 November) unveiled a new multi-million-pound heat pump production line at its headquarters in Belper, Derbyshire.
The new line was officially opened by John Forkin, MBE, MD of Marketing Derby, who was joined by guest, Pauline Latham MP for Mid Derbyshire.
Vaillant's new production line marked a £4 million investment in the factory's low carbon production capabilities. The company has been producing heat pumps for the UK market since the early 2000s.
The new heat pump line will be dedicated to producing Vaillant's aroTHERM plus air-to-water heat pump, which was launched in 2020 using the natural refrigerant R290 with a Global Warming Potential (GWP) of three.
Giving the inaugural tour of the new heat pump line, Henrik Hansen, managing director of Vaillant Group UK & Ireland said: "We know there is no single solution when it comes to heating our homes in the UK as the breadth of property type is diverse. Heat pumps are a here and now technology that can offer decarbonisation benefits, however the future is likely to be made up of a mix of heat pump, hybrid and boiler technologies. Ultimately, we want to help consumers feel in a position to make an informed choice about what will work for both their lifestyle and their property. 
"Vaillant has seen many 'firsts' in its nearly 150-year history, and I'm delighted to now be announcing the commissioning of the company's new heat pump manufacturing line in the UK. It's a huge testament to our incredibly talented and dedicated team, and their vision and commitment to taking the business forward, that we are celebrating this latest milestone.
"Indeed, the widescale need to transition to low carbon is a once in a generation occurrence. The popularity of heat pump technology is growing at pace and is expected to continue to do so as homeowners become comfortable with the workings of lower carbon heating systems. This important move means we can help increase the availability of UK made heat pumps and further our support for installers via supply, training and installation guidance, as they make the shift to new heating technologies."
Find out more about the opening in next month's issue of HPM.