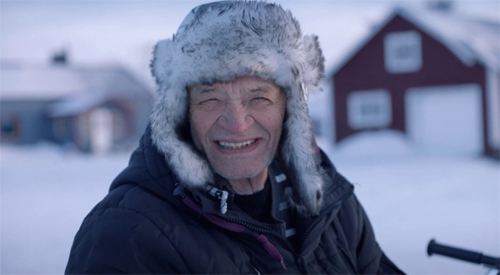 Vaillant, the leading heating technology manufacturer, has launched a new brand campaign to mark the beginning of new investment from the business into the renewable energy sector.
The new campaign features brand ambassador Ake, a Swedish man who lives in Naimakka, located 235km north of the Arctic Circle
Ake's nearest neighbour lives 3km away and until recently, Ake used to struggle with frozen pipes affecting his heating in an area where outside temperatures can drop to – 40ºC.
Vaillant decided to intervene, by fitting a flexoTHERM heat pump for Ake, the renewable heating solution perfect for environments where gas boilers aren't a realistic option.
The video demonstrates the performance and reliability of Vaillant's renewables products such as the business' heat pump technology. In the content, Ake's home is transformed from the coldest place in Sweden to the cosiest, highlighting how Vaillant products can perform in even the most stringent and challenging of condition
The campaign aims to help installers grow their businesses through renewable heating and hot water technologies and how the energy efficiency of such products can be best communicated to customers. The new brand campaign will be supported by dedicated UK resource designed to support installers looking to do a greater proportion of their work within the renewable sector.
Klause Jesse, UK managing director at Vaillant UK, said: "Renewables have long been a major focus of our business and our announcement highlights how we only expect this to increase in the future. Our ambition is to become known as the global leader in the supply of sustainable heating solutions and the Ake campaign is a key asset in demonstrating the performance of our products."