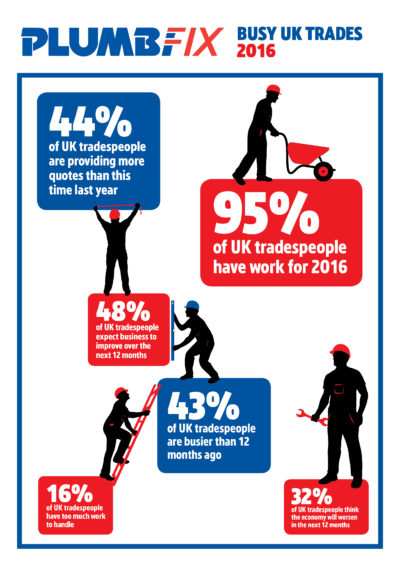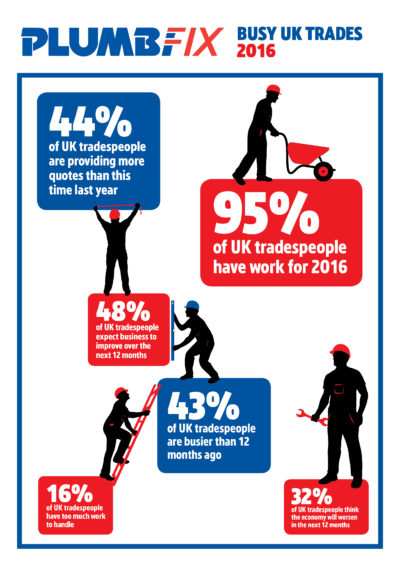 Nearly half (44%) of the UK's plumbers, electricians, builders, carpenters and other trades say they are quoting for more work than 12 months ago, according to Plumbfix.
Among the 95% of tradespeople currently working, the majority (67%) say they have enough work to keep them busy and 16% claim to have more work than they can handle, with nearly half (48%) believing business will improve for them over the next year.
However, the latest Trade Pulse report revealed this optimism is tempered with a degree of concern around the general UK economy. Nearly one in three (32%) think it will worsen in the next 12 months, increasing from 20% who felt the same way 12 months ago.
Andrew Livingston, CEO of Plumbfix, said: "The optimism seen among the UK's tradespeople at the start of 2016 is continuing. However, there also seems to be more uncertainty on the nation's economic outlook from the trade. Despite this, it is very encouraging to see that many continue to be in work, with more jobs to come, which is something we see reflected by our busy trade customers across our network of Plumbfix trade counters, which are exclusive to qualified plumbers.
"We are focused on supporting tradespeople to maximise the business opportunities available to them and continue to open more Screwfix stores, with 50 due to open this year, including Plumbfix trade counters."