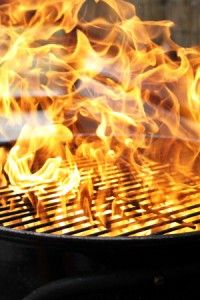 Gas Safe Register is warning the British public about the dangers of using gas appliances and barbecues during the summer after new research reveals that every day last summer 189 homes faced a dangerous gas emergency.
Between May and September 2014, the gas emergency service provider, National Grid, was called out to 30,000 dangerous incidents, which included gas leaks, fires, minor explosions and over 9,500 cases related to carbon monoxide (CO) poisoning.
A new survey among gas consumers has also found that one in five homeowners (19%) said they do not use gas boilers at all during the summer, despite admitting they are still using hot water and cooking on gas appliances. Furthermore, only one in 15 (six per cent) people said that they would consider CO poisoning a summer health risk.
The Register is concerned that the public is putting itself at risk during the summer by unwittingly believing that as their heating is turned off they are not using their boiler and, therefore, not thinking about staying gas safe.
The research also revealed that a third of people say they use a gas barbecue on a weekly basis during the summer, further exposing themselves to potential gas dangers.
Badly fitted and poorly maintained gas appliances can cause serious harm. Gas barbecues, and even portable barbecues, can be just as dangerous as unmaintained gas appliances – if faulty or brought into confined spaces, such as a tent, they can emit deadly levels of CO fumes. In the past three years, 28 people have been killed or injured from CO poisoning after bringing a barbecue into a confined space.
Gas Safe Register has teamed up with NHS Choices, the information website for the NHS, to highlight the dangers faced from poorly maintained gas appliances and barbecues during the summer and to encourage people to recognise the symptoms of CO poisoning. A new safety advice video will feature on the NHS website.
Jonathan Samuel, managing director of Gas Safe Register, said: "It is worrying that so many people are unaware they are still using gas appliances in the summer and are, therefore, exposed to the dangers. If you don't know the danger is there, it's more likely to harm you. With CO causing six serious injuries a week, it is vital that the public are aware of the warning signs of faulty gas appliances and recognise the symptoms of CO poisoning, which can often be confused with hay fever or a cold.
"The only way to keep your family and homes safe is to make sure you have an annual safety check by a registered engineer and don't put it off until winter."
To keep you and your family safe this summer follow Gas Safe Register's top tips:
Get your gas appliances safety checked this summer by a Gas Safe registered engineer. If you live in rented accommodation, your landlord must ensure this is done annually.
Recognise the warning signs that your gas appliances are not working properly, including lazy yellow flames and black marks around the appliance.
Know the symptoms of CO poisoning – severe headaches, dizziness, nausea, breathlessness, collapse and loss of consciousness.
Know how to use barbecues safely – never use a smouldering or lit barbecue (charcoal or gas), gas stove, light or heater in a tent, caravan, room or cabin, or under an awning unless it is a permanent fixture that has been installed and maintained correctly.