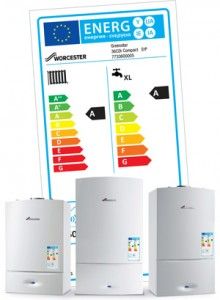 Seventy-eight per cent of installers do not feel prepared ahead of the introduction of the Enegy-related Product (ErP) labelling directive this September, a survey by Worcester, Bosch Group has revealed.
The study of over 500 installers reveals the knowledge gap many have surrounding the forthcoming legislative change, with over 50% admitting they are unsure which month the new labelling system will come into force.
With Worcester's poll also finding that half of installers are concerned about the effect that ErP will have on their day-to-day duties, the manufacturer has pledged to make the new directive easier by creating a dedicated ErP Week from June 8-12.
Over the course of the next five days, Worcester will host an online webinar on the installer section of its website at 1pm and 6pm every day, each of which will enable a live questions and answers session to take place on screen.
Through ErP Week, Worcester aims to boost installers' awareness with over 50% currently unaware it is their responsibility to pass an ErP Label on to the end-user after installing a boiler.
Martyn Bridges, director of marketing and technical support at Worcester, Bosch Group, said: "Our survey has revealed that the industry still has a knowledge gap to bridge in order for the new energy labelling scheme to be implemented successfully. We want installers to know that there is a vast support network in place at Worcester to aid them over the coming months, and we're here to help during ErP Week and beyond."
As well as participating in the webinars, installers can put their questions to Worcester (@heatingyourhome) via Twitter with the hashtag #ErPweek.
Martyn Bridges will be answering all questions under the hashtag on June 12, with prizes also on offer for those taking part.