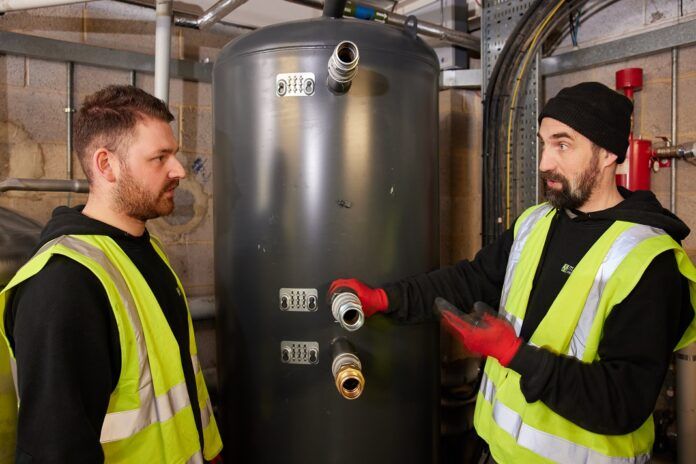 The Microgeneration Certification Scheme (MCS) has appointed Simply Certification as its newest contractor certification body (CB) for the installation of small-scale renewables.
Simply Certification is the second CB appointed by MCS since 2022. It now offers MCS certification alongside APHC, NICEIC, HETAS, OFTEC, NAPIT and the IAA.
Since becoming UK Accreditation Service (UKAS) accredited in April to assess contractors to MCS standards, Simply's client base of over 200 construction organisations can now gain MCS certification to install low-carbon technologies to the 'highest standards', according to a statement.
It is now licensed under MCS to deliver assessments for air source heat pumps (ASHP) ground/water source heat pumps (G/WSHP), solar PV and solar heating technologies.
Ian Rippin, CEO of MCS, said: "We are pleased to broaden our selection of certification bodies and increase choice for contractors who want to gain MCS certification by welcoming Simply Certification to the scheme.
"Simply Certification join us at an exciting and pivotal time in MCS's history as we launch our Scheme Redevelopment Consultation. This is inviting views on proposals to transform the way that the scheme operates.
"Simply Certification, will allow MCS to expand our industry reach, help us to champion quality and grow the number of MCS certified contractors."
Alexandra Gates, managing director at Simply Certification, added: "We're delighted to gain UKAS accreditation to certify contractors against the MCS standards.
"We've worked exceptionally hard to put in place an MCS assessor infrastructure that ensures the highest degrees of responsiveness and have a wide-reaching base of assessors stretching from Scotland down to the Isle of Wight. This latest achievement is a testament to the amazing team we have at Simply Certification.
"Our mission is to be the certification body of choice for businesses that operate within the Built Environment sector, and we continue to make progress towards that ambition.
"Over the last few months, we've been working closely with a range of stakeholders to help grow the UK retrofit supply chain and a number of our projects are coming to fruition making the pathway to certification and compliance a much smoother process."