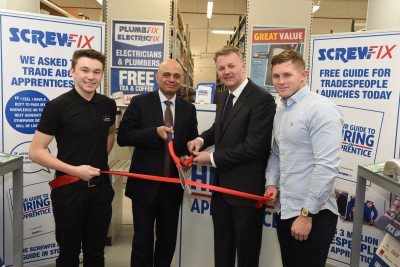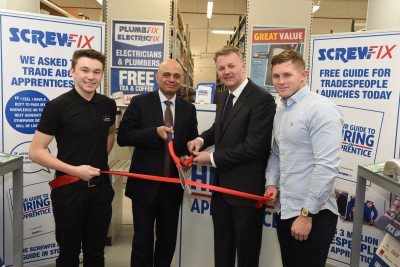 The Rt Hon Sajid Javid MP, secretary of state for business, innovation & skills (BIS) visited a Screwfix store in Brixton on February 25 to launch a new guide created by the retailer to help tradespeople understand how easy it is to hire an apprentice.
The free booklet will be available in Screwfix stores across England and entitled 'Your Guide to Hiring an Apprentice'. It was released by Screwfix in conjunction with BIS in response to recent research revealing that tradespeople want an increase in the availability of skilled workers through the encouragement of apprenticeships, plus help in understanding how to take apprentices on.
The easy-to-use, free information source is designed to expose many of the myths surrounding apprenticeships. As a pocket-sized guide, it includes everything those in the trade need to know in bite-size chunks – from the benefits of taking on an apprentice, to where to go first and the help available.
Screwfix has released the guide in response to feedback from its trade customers and the findings of its Tradesman Manifesto, which highlighted that more than three quarters of UK tradespeople want the government to raise the number of apprenticeship places from 110,000 to 400,000 and encourage as many school leavers to take up apprenticeships as go to university. Many of the plumbers, electricians, builders, carpenters and other tradespeople questioned by the Screwfix poll have little or no experience of taking on apprentices, with only 14% having employed one in the last year. 
Andrew Livingston, CEO of Screwfix, said: "As a key supplier to the trade, we're always looking for ways to support UK tradespeople in growing their businesses – from enabling them to get the right products at the right time to finding out and helping to address the issues that matter most. We understand how vital apprentices are as the future lifeblood of the trade, but it's clear from what our customers are telling us that more needs to be done to simplify the process of hiring one. 
"We have developed this guide to help tradespeople who have little or no experience of apprentices. Whether they're looking to find out a bit more about who to hire an apprentice through, or the financial support available to them to help with taking one on, we encourage interested tradespeople to pick up their free guide from one of our stores in England now."
Business secretary, Sajid Javid, added: "This guide will be an essential tool to help the trade to plug the skills gap by finding and developing the next generation of skilled tradesmen and women and realising our goal of creating three million apprenticeships by 2020."