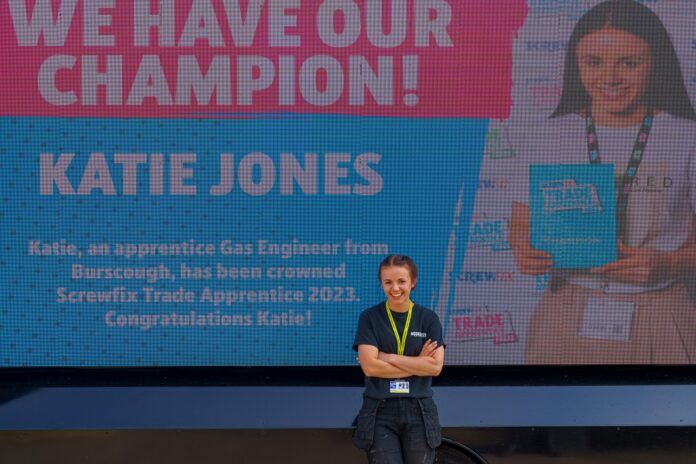 Screwfix Trade Apprentice 2023 champion, Katie Jones, has been featured on a van advert to celebrate her success.
The ad van features an 8 sq m image of Katie with her trophy. It visited Southport College, where Katie is currently enrolled on a gas engineer apprenticeship course.
Katie, 23, was crowned Screwfix Trade Apprentice in May after reaching the finals of the award, which saw her battle it out against nine other apprentice tradespeople from across the UK and Ireland.
Katie impressed the judges with her ambition to learn and further her skillset, particularly around low carbon technologies and renewables, according to a statement. She walked away with a £10k prize bundle including tools, tech and training.
In addition, her college received £2,000 of Screwfix vouchers, which it will be putting towards new workshop equipment.
Katie said: "The support I have been given from Screwfix since winning Trade Apprentice has been incredible. As part of the competition, I received an incredible £10,000 prize bundle, but to see my face on the van outside the college where I started my gas engineering journey has been so special.
"Not only will it raise awareness of my services in the local area but could also inspire more young tradespeople to enter the industry and kick start their own apprenticeship journey."
Sam Wilcock, curriculum manager for Skills Trades and Foundation Learning at Southport College added: "Our Team are so proud of Katie's achievement. She has been a fantastic apprentice here at Southport College from day one, positive, friendly and eager to learn. 
"She embraces every task she is given, picks up new skills quickly and has proved herself to be an excellent gas engineer. Katie is a brilliant role model for future apprentices and will be a real asset to any work force.
"On behalf of all her tutors here at Southport College, we offer her our biggest congratulations and wish her every success for the future and can't wait to see what she does next. Katie has agreed to return next academic year to share her journey with our new students and undoubtedly inspire them with her engaging personality and outstanding achievement."