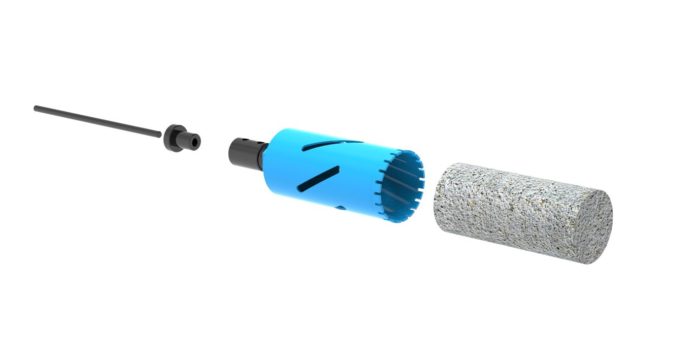 A newly patent protected QUIKCORE drill bit release system has now been stocked at all Graham Plumbers' Merchant branches.
The range includes the QUIKCORE Core and Drill Adaptors and the Knockout Tool – each fulfilling a particular time-saving need for installers when required to drill holes.
Manufactured from British high tensile steel, the QUIKCORE Core and Drill Adaptors are designed to enable the quick release of a core bit from a drill, which may otherwise require the use of a spanner to undo. This can be particularly time consuming when a number of different sized holes are required.
Users screw the Drill Adaptor to their drill bit and the Core Adaptor to the core and then connect the two adaptors together using a quick-release clip. A guide pin can still be inserted into the core and removed with a drift key if required. Once used, users pop the release clip from the adaptors and the core and drill bit come apart. A different sized core with Core Adaptor can then be attached if necessary.
The range also includes a Knock Out Tool that has been created to fit inside the Core Adaptor once separated from the drill and push out the waste material. This prevents the need to hit the core with a hammer, in the traditional method, to remove any waste material. This can often lead to equipment becoming damaged and a frustration for many installers.
The release system is for use on 1/2" threaded core bits from 38mm up to 127mm diameter.