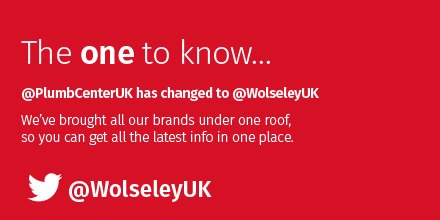 The existing Plumb, Parts, Drain, Pipe and Climate Center brands are all part of Wolseley UK and will now be known collectively as one specialist trade merchant, Wolseley.
Wolseley will continue tweeting regular deals including DEAL OF THE WEEK – where installers can take advantage of special offers in branch and online.
There's also plenty of other incentives, competitions, installer humour, new product insight and much more for installers to get involved with on Twitter.
Head over to www.twitter.com and follow @wolseleyUK to get the latest updates.