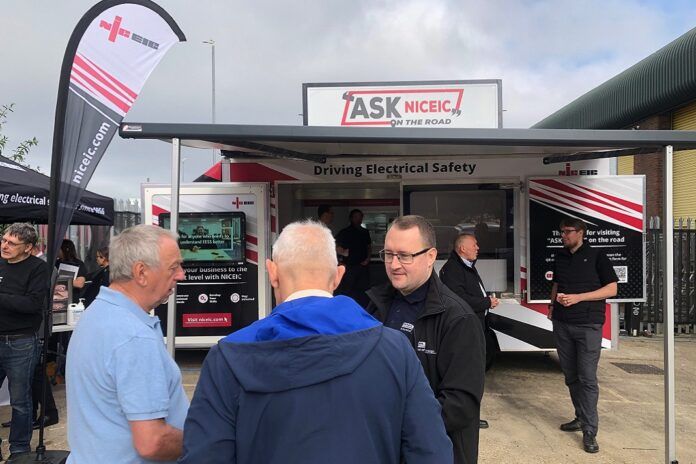 NICEIC kicked off it's ASK NICEIC UK roadshow last week with it's latest recruit, 'The Motor Ohm', pulling into Rexel Maidstone.
Sarah Hunter, NICEIC's marketing and events manager, said: "We are delighted to get back on the road. The feedback so far has also been great, with visitors commenting on the convenience of the locations and the relaxed format, which has allowed them to engage with the team freely."
Simon Thomson, of Arcus Facilities Management, added: "Fantastic to see the team at the NICEIC today, some great conversations, lots of useful information, and a free bacon roll chucked in – what's not to like."
The company has said that the tour is now reaching the halfway point, but there is still plenty of opportunity to get involved. The upcoming stops are listed below:
Event opening hours – 8 AM – 11:30 AM
16/06/2023 REXEL Oxford Cowley, OX4 6NH
20/06/2023 REXEL Glasgow Devon Place, G41 1RB
21/06/2023 REXEL Stockton, Stockton-On-Tees, TS182QZ
22/06/2023 REXEL Leeds, LS12 6DN
05/07/2023 REXEL Derby, DE24 8JP
06/07/2023 REXEL Norwich Sweet Briar, NR3 2BT
07/07/2023 REXEL Barking, IG11 0AS
Breakfast will be provided, and the company have said that there will be plenty of opportunities to bag exclusive discounts and prizes.