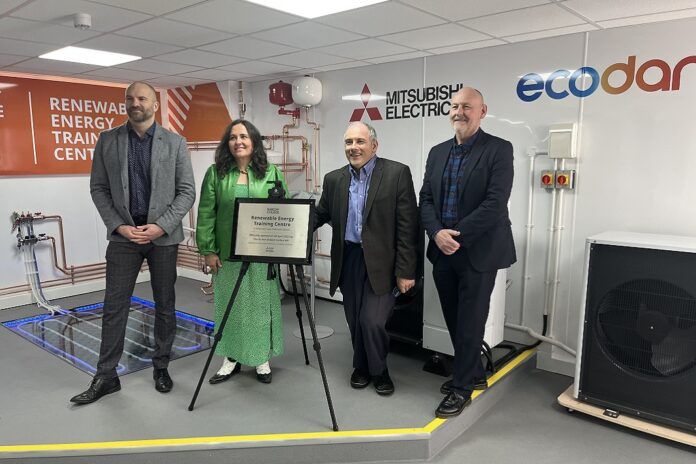 Mitsubishi Electric has teamed-up with Harlow College to establish The Renewable Energy Training Centre.
The centre is a new on-campus project for the next generation of heating engineers to train using green technologies, a statement has said.
With the government aiming to upgrade all homes to an Energy Performance Certificate (EPC) rating of C within the next 10 years, it's more important than ever that heating engineers are trained to install energy-efficient technologies, a statement said.
The new centre at Harlow College is to support this aim by training students on installing and maintaining renewable energy appliances. Within the centre, work-stations are expected to allow learners to develop an understanding of how to install and maintain air source heat pump.
The college tutors who are to train the heating engineers of the future are certified to a minimum of NVQ Level Three as qualified plumbing and heating engineers. They have also undertaken specific Ecodan product installation training at Mitsubishi Electric's Training Centre in Hatfield, Hertfordshire.
Russell Dean, Mitsubishi Electric's residential product group director, said: "We are thrilled to be working with Harlow College to support their Renewable Energy Training Centre. We believe that collaborations such as this can help ensure that future generations have access to the training and knowledge needed to build a greener, more sustainable future as we aim to achieve Net Zero."
The centre will also be equipped with six Mitsubishi Electric Ecodan Air Source Heat Pumps, roof-mounted photo-voltaic solar panels, associated collection points and energy-storage unit and two electric vehicle charging points. The solar panels will provide enough energy to power the centre, and any extra energy will be put back into the National Grid, a statement has said.
Karen Spencer, principal of Harlow College, said: "At Harlow College, we have made a commitment to being carbon neutral in line with the Climate Action Roadmap for Colleges. Training the future generation of heating engineers is part of our contribution to our local community and the environment.
"We absolutely recognise the contribution they will make to a more sustainable future. We are proud to be working in partnership with Mitsubishi Electric, who are supporting our venture and helping both our staff and students train in this new technology."