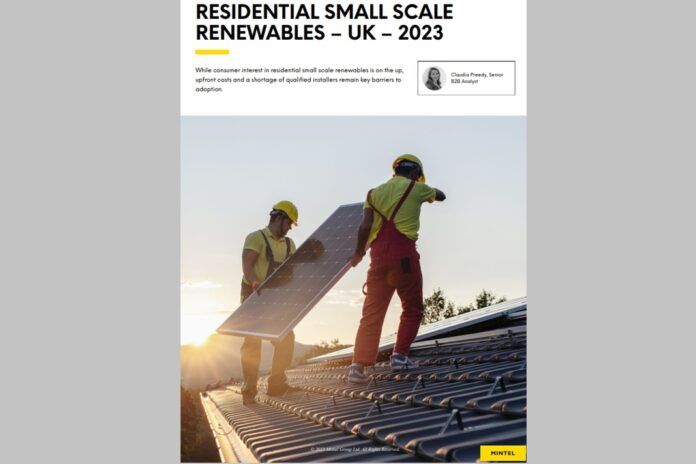 According to a new report from Mintel, 123,500 MCS-certified installations of residential small-scale renewables were registered between January and August 2023. This figure represents a 45% increase from the same period last year.
Solar PV dominates residential small-scale renewable installations, accounting for 82% of the completed installations in the first eight months of 2023.
Consumer interest in small-scale renewables is rising, supported by high energy costs and increased environmental awareness. A 2022 Kantar Profiles/Mintel survey found that 24% of consumers were considering installing solar panels, 23% an energy-efficient boiler and 11% a heat pump.
Upfront costs, however, remain a clear barrier to adoption. More attractive finance options, like green mortgage products and interest-free loans, are therefore needed to encourage installation of green technologies. In the Department for Energy Security and Net Zero (DESNZ)'s Spring 2023 Public Attitude Tracker survey, 79% of respondents said that better financial support would be the most significant way to encourage installation of solar PV.
One of the biggest challenges for small-scale renewable deployment is a skilled and trained workforce able to install these technologies in a way that they can meet demand, a statement has said. While some initiatives have been launched to tackle the skills gap, a shortage of qualified installers will likely remain a barrier to greater deployment for the foreseeable future.
The government's decision to relax its fossil fuel heating phase-put plans may hamper the roll-out of heat pumps as it sends confusing messages to homeowners. It could also derail investment in the supply chain, skills and capacity as the goalpost has been moved. Labour has said it will not reverse the government's relaxed plans of the phase-out of fossil fuel boilers, if it wins power at the next General Election.
In the new build sector, the upcoming Future Homes Standard presents opportunities for the residential small-scale renewables industry. Its aim is to ensure that new homes built from 2025 will produce 75-80% less carbon emissions than homes built under the current Building Regulations, Mintel stated.
While the government remains reluctant to mandate certain types of low-carbon technologies, the expectation is that heat pumps will become the main source of heating system for most new homes and that developers will lean towards rooftop solar PV installation to comply with the new standards, Mintel reported.