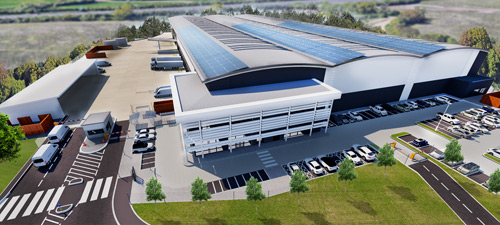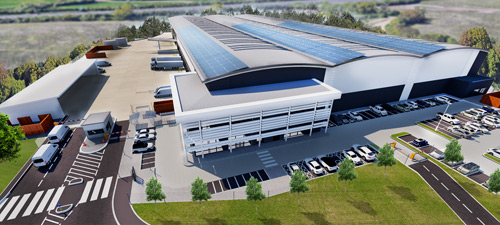 A leading manufacturer of kitchen and bathroom products has announced plans to create a state-of-the-art distribution, training and office unit in Worcestershire.
Kohler Mira, parent company of leading UK shower brand Mira Showers, is initially investing over £20 million in the first phase of its 11.3-acre development. Phase 1 of the scheme will deliver a unit of 158,000 sq ft with a further phase delivering up to an additional 100,000 sq ft.
Kohler Mira, owned by Kohler Co., represents the third significant inward investment into the business park from a US investor. This is particularly exciting given Kohler's ongoing global commitment to sustainability and corporate social responsibility.
The sustainable building will include high-tech features including a significant PV solar array on the roof of the building providing a sustainable energy source. Once installed the PVs could generate up to 1MW. This underlines the company's commitment to be carbon neutral by 2035.
The company, which manufactures Mira showers, taps and bathroom accessories, already has operations in Gloucester, Cheltenham and Hull, has selected Worcester Six for the latest phase of its UK growth.
Construction could start on site before the end of the year, subject to planning consent and would seek to deliver Phase 1 by April 2019.
Liz Hazeldene, managing director of Kohler Mira, said: "This is an exciting opportunity that clearly reflects our continued investment in the UK.
"This purpose-built facility is a result of both an increase in customer demand and the need to meet future business requirements."