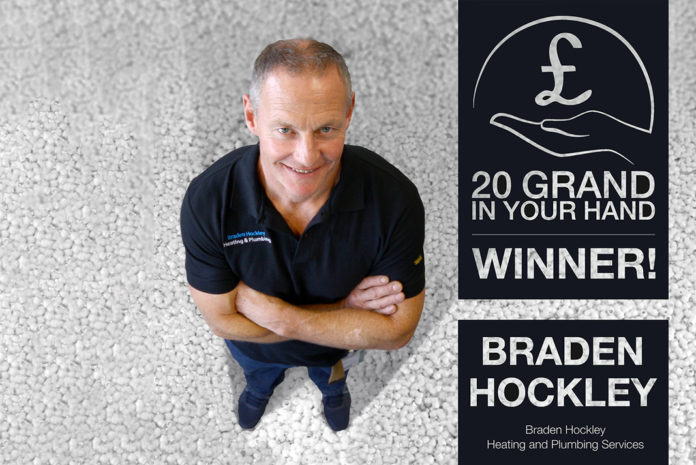 Braden Hockley, a Gloucester-based plumber, has been announced as the winner of a long-running competition by JG Speedfit.
Braden, who has spent 13 years as a qualified plumber, was picked from over tens of thousands of entrants of the 20 Grand in Your Hand competition run by JG Speedfit.
He said: "I use the JG Speedfit products all the time and really needed some luck so figured if I'm in it, I could win it! I was driving home from a job when I received a call from JG Speedfit. I was so shocked as I've never won anything in my life."
Self-employed, Braden has faced significant difficulty in recent times due to a knee injury which has hindered his ability to kneel and bend down – an issue faced by many installers across the industry.
"I will use some money to pay for my knee surgery, which will help me to return to pain-free working for years to come," he said. "With the rest, I plan to buy a new front door because the existing one has air gaps, and this will become a nightmare during the winter months as cold air will seep through it!"
Braden has used JG Speedfit for the entirety of his plumbing career and put his preference down to the products' ability to make installations quick, easy and reliable.
JG Speedfit launched the 26-week promotional campaign involving its best-selling product, the 15mm Equal Elbow, back in April.
In addition to the £20,000 prize, installers were entered into a monthly Speedfit Tech Bundle draw, to show JG Speedfit's commitment to technology. Each bundle was worth over £1,000 and six monthly bundles were given away during the course of the campaign, these included gadgets like an Apple iPhone 8 (64GB), an LG 49" 4K HDR Smart TV and a PS4 Pro Games Console.
Mike Riseley, sales director at JG Speedfit, said: "The story of Braden and his resilience to get back on the job personifies the hard work carried out by installers across the country. The 20 Grand in Your Hand promotion was a real success and a brilliant way to offer additional rewards to our loyal customers."