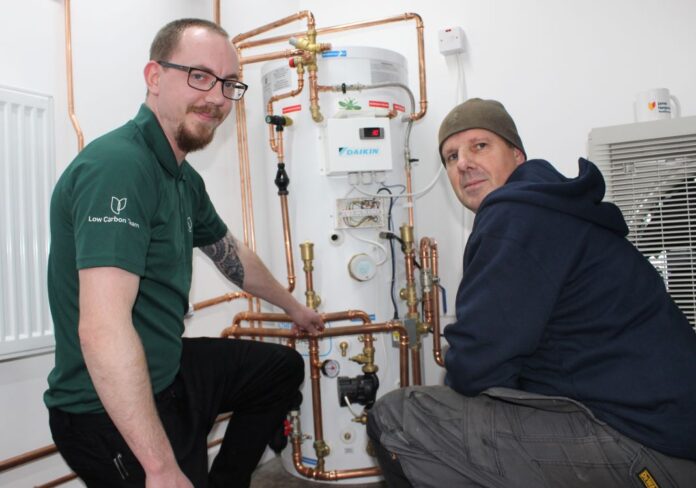 James Hargreaves Plumbing Supplies has committed £500,000 to open the door to a dedicated Low Carbon Centre at its headquarters in Burnley.
James Hargreaves has teamed up with a number of global manufacturers and the pioneering new Low Carbon Centre will incorporate a Daikin Sustainable Home.
"This is a major step forward for us, a great new facility specifically designed to train heating engineers, installers and plumbers to be best-placed on delivering an efficient and effective low carbon future," said Bill Davies, sales director at James Hargreaves.
A purpose-built training room has been designed to provide the space for installers to obtain the skills and knowledge they need to become part of the UK's low-carbon future, a statement said.
"Our fully-qualified, in-house team and the Low Carbon Centre facility are now available to all heating engineers, installers or plumbers from across the UK, not just our existing customers," Bill added. "Low carbon is the future, but it is still new territory for many working in the heating industry, bringing with it many questions and different demands. While these new technologies and associated products provide undoubted business opportunities, they can also lead to nervousness and concern.
"Knowledge is king and our Low Carbon Centre is designed to provide the best information and highest-level training. Customers will get a real feel for all the product options and the chance to examine at close quarters a range of 'live' working models from multiple-manufacturers."
Iain Bevan, commercial manager – heating & renewables at Daikin UK, said: "We're delighted to have partnered with James Hargreaves in opening a Daikin Sustainable Home Centre within their site, featuring a Daikin showroom and air source heat pump training centre.
"Being able to explore and discuss heat pump technology and the significant cost savings they offer in person is vital, as is knowing that it will be installed by a highly trained professional – and that's what our Sustainable Home Centres are all about. We're confident that together we can make a significant contribution towards our national net zero targets."