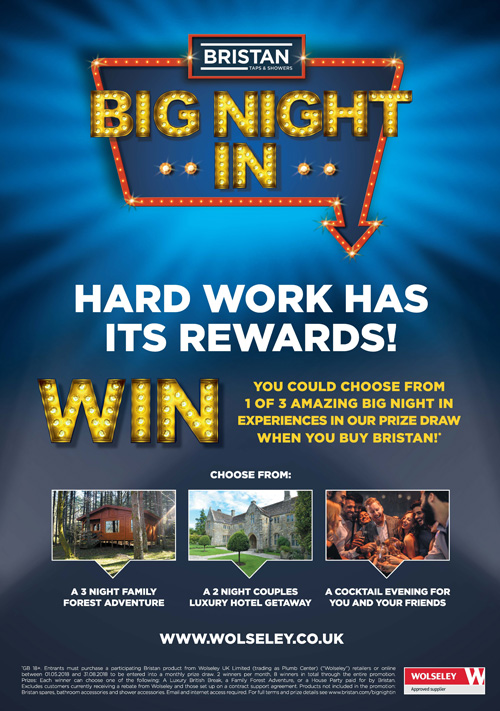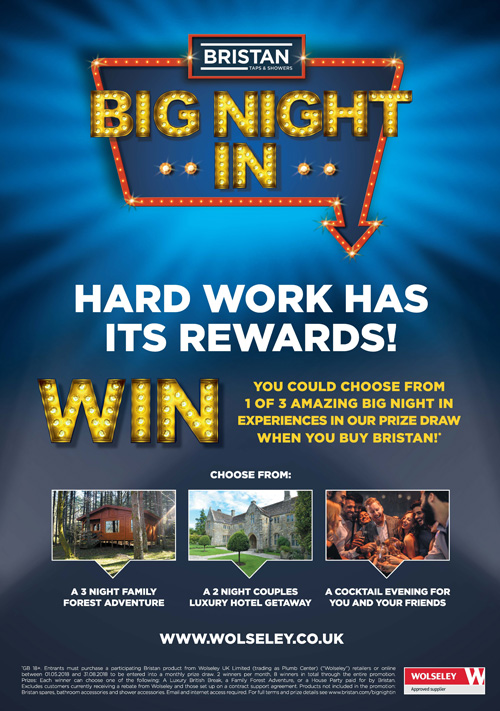 The UK's leading tap and shower brand, Bristan, has teamed up with specialist builders' merchant, Wolseley, to offer eight lucky installers the ultimate big night in.
From May 1 to August 31, 2018, Wolseley customers who purchase participating Bristan products will automatically be entered in to a prize draw to win one of three amazing Big Nights In.
The promotion, designed to reward hardworking installers across the UK, aims to add a little luxury to the traditional Big Night In, providing tradespeople with a well-earned break.
Two winners will be selected at random each month and will have the choice of a three-night family adventure, a luxury two-night couple's getaway or a cocktail masterclass with friends in their very own home. By offering three possible prizes, Wolseley and Bristan hope to offer an option to suit all installers, providing the dream night in for every winner.
Ian Hansell, general manager at Bristan, said: "We know that our installers work incredibly hard, often over very long hours, and we hope that our Big Night In promotion will provide the ideal opportunity to unwind with family and friends.
"We are delighted to run this promotion with Wolseley as we know it shares our enthusiasm for recognising and rewarding installers."
Phil Viner, category director for plumbing at Wolseley, added: "With two prizes up for grabs every month, there's plenty of opportunities to win, and we encourage our customers to get involved, after all, you've got to be in it to Big Night Win it!"