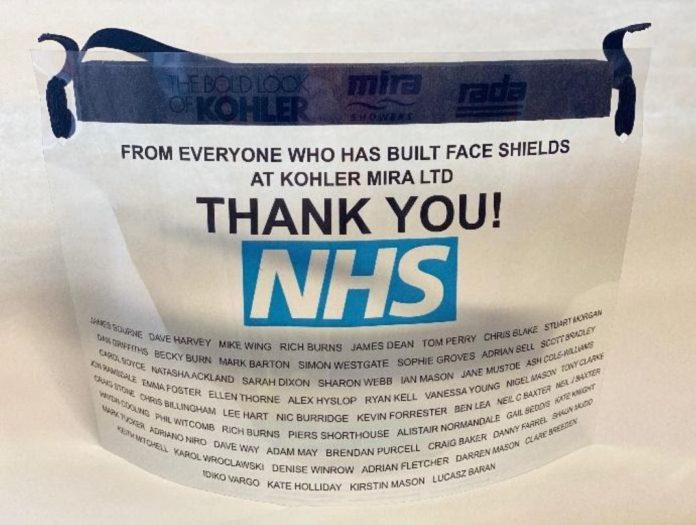 As the coronavirus crisis worsened this spring, heating and plumbing brands turned their hand to manufacturing an unthinkable range of healthcare-related products. HPM editor Joe Ayling reports
Heating and plumbing product manufacturers have continued to help an overstretched NHS cope with the unknown and deadly enemy that is coronavirus.
The spike in COVID-19 cases during April resulted in a demand for ventilation and personal protective equipment (PPE) that no health service could have foreseen.
There was a resulting call to arms that the HVAC industry did not hesitate in answering, meaning so many brands can look back at this tragic pandemic with their heads held high. And demand for this assistance and innovation could continue for some time.
SELF-TAUGHT RESPONSE
In early April, design engineers at the Preston-based site of boiler manufacturer Baxi Heating began swapping the use of their 3D printers from making prototype boiler components to frames for protective face masks.
A week later, Worcester Bosch announced it had adapted its Clay Cross manufacturing facility in Derbyshire to start producing metal ventilator casings – supporting the government's call for rapid development and manufacturing of the life-saving equipment.
Worcester vowed to produce 550 sets of ventilator casings and more if required.
Carl Arntzen, CEO of Worcester Bosch, said: "We are proud to be supporting the fight against coronavirus in any way we can and hope that our contribution will help hospitals and those in need during these turbulent times."
The manufacturer also used its large-scale printing capabilities to produce patterns for scrubs, plus 'ear guards' for NHS workers' face masks.
BOILERS TO VENTILATORS
A week later, another boiler brand had gone the full journey in repurposing manufacturing to directly assist hospitals. This was when Viessmann converted part of its production facilities in Germany to manufacture its own ventilators, mobile intensive care units, respiratory protective face masks and hand sanitiser.
Viessmann designed and developed a new modular intensive care unit, which could make a fundamental contribution to the care of seriously ill COVID-19 patients, by building on expertise within its refrigeration solutions division.
The design of the Viessmann boiler, which includes electronic gas and air connections, lent itself perfectly to the development of a simplified ventilator in a very short space of time, Viessmann said. The compact ventilators are mobile, working both as a standalone solution with an oxygen cylinder or connected to a hospital's own oxygen supply.
HELP FOR NURSING HOMES
While the life-saving impact of ventilators has saved many patient lives, the health service and care homes have been in desperate need of PPE while treating the sick.
Mark Vitow has delivered more than 500 face masks to residential and nursing homes and care providers across the UK.
The company made the donation through a 'Find the Masks' initiative led by a global team of volunteers who have been working to build a comprehensive database of PPE needs.
Rachel Pead, operations director at Mark Vitow, said: "We continue to support the key workers in our industry and are glad to have played a very small part in providing PPE to the heroes providing crucial care to those in need during these unprecedented times."
Meanwhile, shower manufacturer Kohler Mira this month announced its collaboration in the production of vital PPE for frontline workers through volunteer support.
After designing its own prototype, which was subsequently approved by NHS Gloucestershire, Mira produced 12,000 high-quality face shields in just two weeks using local manufacturing sites.
NHS Gloucestershire was the recipient of 10,000 face shields produced at Kohler Mira's Cheltenham site. An additional 2,000 have been distributed between its nominated charity of the year, Sue Ryder, and from its Hull manufacturing site to Hull University Teaching Hospitals NHS Trust. A further 1,000 face shields will be distributed next week to the Hull and East Yorkshire NHS.
Craig Baker, managing director at Kohler Mira, said at the time: "Over our long history as a company we have faced many challenges, but none quite like the request we received two weeks ago when we were contacted by NHS Gloucestershire; critically low on face shields, they asked if we could step in to help with our production capabilities. Armed with our approved design and an incredible team of volunteers we have so far delivered over 12,000 face shields to frontline local workers in Gloucestershire and Hull where our manufacturing sites are based.
"We'd like to give special thanks to the volunteers and everyone here at Kohler Mira for turning this project around, and of course express our gratitude to the amazing key workers who are continuing to work tirelessly to protect our nation."
FIND ALL THE CONTENT FROM HPM's GOING THE DISTANCE CAMPAIGN HERE.