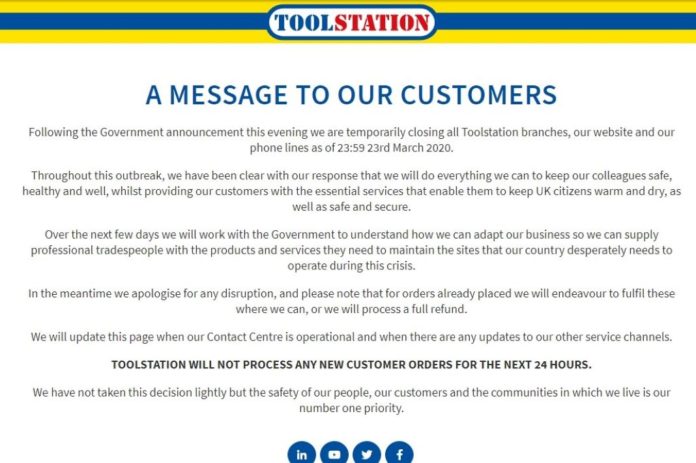 As the lockdown restrictions begin to ease, construction sites open up and the trade start to consider the prospect of re-entering homes, findings from Toolstation's recent customer surveys shed light on how the past ten weeks have impacted the trade, and give some indication of what might be the 'new normal' for the coming months at least.
A survey of over 5,000 Toolstation customers conducted in the first two weeks of May revealed the impact of the coronavirus situation on the wellbeing, work activity and purchasing behaviour of electricians, plumbers, joiners, roofers and other trades that are often self-employed and undertake a range of domestic and commercial projects.
Unsurprisingly, 80% of trade professionals reported that their employment or work rates had decreased significantly as a result of the pandemic, with only 20% continuing to work at similar levels to those prior to lockdown. At 45%, just under half of the trade surveyed were not working at all, with 18% of those on a furlough or retention scheme and 27% without any income support from an employer or the much-publicised Government scheme.
Of those continuing to work, the majority were carrying out domestic projects or essential maintenance on household properties, with circa 55% doing more, the same or less of these types of projects than usual. Only roughly 30% were involved in commercial projects or maintenance – reflecting the closure of workplaces in favour of home-working, as well as the stalling of commercial developments.
Against this backdrop, there are understandable concerns about the availability of work and supply of materials, with the damaging impact this has on business and household finances. 58% reported their concerns about suppliers being open or materials being available, a situation that has since improved as lockdown measures have eased, whilst just over half at 52% rated the postponement or cancellation of work as one of their biggest concerns. It remains to be seen whether any short-term improvements are possible whilst we continue to live with coronavirus and its damaging impact on the economy.
From a health and wellbeing perspective, over 40% of trade professionals had major concerns about the risk of contracting COVID-19 at work. Given that a majority of projects are undertaken in a domestic setting and can often involve a number of trades working alongside each other, indoors and in relatively confined spaces. This inevitably means that at best, strict shift patterns need to be observed to minimise the number of people present at any one time, or at worst, projects don't go ahead until the coronavirus risk significantly subsides or disappears altogether, which is highly unlikely as things stand.
The impact of these work and financial challenges on the mental health of trade professionals is a primary concern for many, with just under half expressing concerns about the mental wellbeing of friends and family members, at 43%, and 24% registering concern about their own mental wellbeing. Lack of work, reduced or zero income and genuine fears about the immediate future for their business are all significant causes of stress, anxiety or depression amongst the trade which can have a serious long-term impact on individuals and their ability to work productively.
On a more positive note, those jobs at home that often get ignored have finally been given attention  during lockdown as 50% of the trade report that they've been doing more DIY than ever before – applying their skills to home improvement in order to keep busy and prevent boredom setting in.
Looking to the future, a second Toolstation customer survey conducted towards the end of May revealed that over 75% of respondents intend to use Click & Collect services more from now on, with those aged under 35 expressing a greater preference for this method of purchasing. Prior to the coronavirus situation, 63% of all respondents preferred ordering in branch – demonstrating a significant shift in behaviour that's likely explained by concerns around virus infection.
Commenting on the findings of the customer research, managing director James Mackenzie said the business has been working hard throughout the 'lockdown' period to maintain service and supplies to customers, whilst making operational changes to respond to supply chain challenges and the shift in emphasis from branch sales to online ordering, home/site delivery, and click & collect.
He said: "The coronavirus has presented the business with some significant operational challenges, not least with supply chains and shortages of materials that everyone in the sector has had to deal with. Our aim throughout, has been to do everything we can to maintain service and help keep the trades working as much as possible.
"Our contactless Click & Collect service in branch ensures the safety of colleagues and customers, and we also provide a direct delivery service to a site or home address to give customers what they need where they need it.
"The shortages of some everyday supplies, such as finishing plaster, and those coming from overseas has been regrettable but caused by sudden drops in manufacturing capacity, travel restrictions and increased demand on a global scale. To help safeguard against such issues in the future, we're continually reviewing and developing our range of products and supply chains, and making changes where needed."
The coming months will undoubtedly prove extremely challenging for the trade, along with the UK and global economy, and it remains to be seen whether we ever return to what was 'normal' before COVID-19 struck – or if we're actually living in the 'new normal' now.